San Francisco Car Donation Helps Greater Bay Area Kids
Wheels For Wishes is a charity car donation program benefiting Make-A-Wish® Greater Bay Area. Our charity vehicle donation program helps turns cars, trucks, motorcycles, SUVs, RVs, and even boats into wishes for children in San Francisco and all over California.
Vehicle donation is a great alternative to selling or trading in your vehicle. Best of all, our no-hassle approach takes care of all the hard work for you. You'll get a tax deduction and free vehicle pick up. It doesn't get easier than this to donate your car.

We Tow Your Car For Free Anywhere In The San Francisco Bay Area
Donate a car in:
Donate your vehicle for free anywhere in the San Francisco area.
San Francisco Car Donation Program Benefits You Too!
Yes, generous vehicle donations in the San Francisco Area benefit local Make-A-Wish children facing critical illness. But did you know that car donations can benefit you, the donor, as well?
That's right! Car donation with Wheels For Wishes in the San Francisco area comes with amazing benefits for you! Here are some of the benefits of donating a car:
Your vehicle donation incentive starts with a 100 percent tax deductible receipt to use when filing taxes on your 1098-c form. It really pays to donate with a great tax deduction!
Wheels For Wishes tows away your car for free. When you are ready to donation, we come to you with free towing. Wherever you are in the San Francisco area, we come to you and pick up your car donations for free.
We take care of the paperwork for your charity car donation.
You don't have to worry about your vehicle taking up your precious space anymore. You don't have to worry about selling it or fixing it either! Our car donation program gives you free towing and you get a great tax deduction.
Best of all, you are helping to make dreams come true for San Francisco Area kids facing critical illnesses! The proceeds from your generous vehicle donations benefit Make-A-Wish children in your communities.
With all these amazing benefits, why wait? Donate your car today and help a San Francisco child.

We Take Almost Any Vehicle In The San Francisco Area
We accept cars and most vehicles, running or not!
Cars
RV's
Motorcycles
Trucks
SUV's
Boats
Trailers
Watercraft
And much more!
Your car may not be worth much to you, but San Francisco bay area kids benefit greatly from car donations. We accept cars and a lot of other vehicles. All we need is your vehicle info to get started. Call today to see if we will accept your vehicle!
How Do I Donate My Car To Benefit Make-A-Wish Kids?
Wheels For Wishes car donation has received an amazing amount of support from car donors like you since 2010.
In fact, across the country Wheels For Wishes has donated over $109 million to benefit local kids through Make-A-Wish. That's over 13,218 wishes granted!
Donate a car to see just how many wishes you make come true! You might be wondering, "how do I donate my car the best way?" When both you and wish kids benefit from car donation, the choice is simple. Get a tax deduction and help wish kids get their wishes granted.

How Do I Donate My Car In The San Francisco Greater Bay Area?
Here's how you can donate a car in the San Francisco area in 3 easy steps:
Call our representatives 1-855-278-9474 or fill out our convenient

online donation form

.

Vehicle donation online is easy with us!
We'll call you for your free towing pick up within 24 hours of the next business day.
We'll mail you your 100 percent tax deductible receipt. Tax deductions are easy when you donate a car with us.
Make dreams come true for San Francisco, CA kids with your donation to Wheels For Wishes today! Your donation will help keep Sam Francisco green while making a huge impact for Make-A-Wish! Plus, you get great service, free pick up, and a tax deduction! Help San Francisco kids with Wheels For Wishes car donation program. Donate a car today!
Donate Your Car Anywhere In California
Oakland, San Francisco, Santa Rosa, Mountain View, Santa Clara, Daly City, Fairfield, San Jose, Fremont, Sunnyvale, Hayward, Los Angeles, Pasadena, Glendale, Palmdale, Torrance, El Monte, Burbank, Inglewood, Santa Clarita, Lancaster, Long Beach, Downey, Sacramento, Modesto, Stockton, San Diego, Chula Vista, Escondido, Carlsbad, Oceanside, Santa Barbara, Oxnard, Ventura, Thousand Oaks, Simi Valley, Santa Maria, San Luis Obispo, Anaheim, Santa Ana, Riverside, Rancho Cucamonga, Irvine, Ontario, Huntington Beach, Fontana, Moreno Valley, Garden Grove, Fullerton, Costa Mesa, Mission Viejo, Westminster, Lake Forest, Newport Beach, Buena Park, San Bernardino, Corona, Murrieta, Temecula, Jurupa Valley, Menifee, Indio, Hemet, Perris, Victorville, Rialto, Hesperia, Chino, and Chino Hills.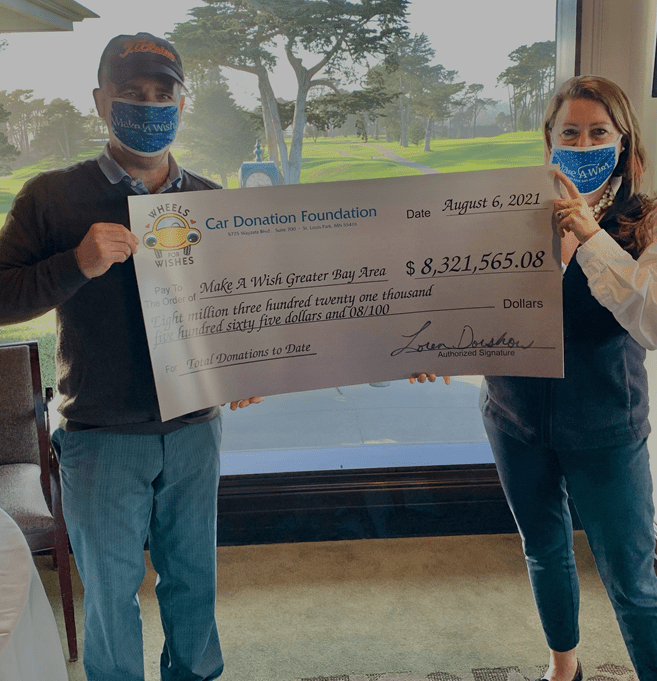 Our Bay Area car donation program takes cars, trucks, boats, SUV's. RV's, watercraft, trailers and more. Donate almost any vehicle in North America. Visit our California Title page or give us a call to know exactly what vehicle info you will need. We'll let you know where your vehicle identification number is and what to put on the seller owner field, purchaser field, or any other title questions.
Our customer service professionals do all the work for you. Donate your car absolutely free, that means no strange processing fees or any tow truck payment. Your Bay Area car donation helps Make-A-Wish kids in California get their wishes granted. Donate your car with ease today!