Find A Local Soup Kitchen Who Needs Your Help This Holiday Season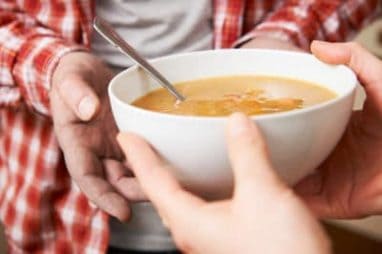 The holidays are a popular time for people to volunteer at soup kitchens or homeless shelters, not just because people wish to give back during the season of giving, but because many parts of the country are experiencing colder temperatures, making homelessness especially difficult. 
Homelessness In The United States
According to the National Alliance to End Homelessness, there were 578,424 people experiencing homelessness in the U.S. in January 2014. Of this number, 216,197 were people in families, and 362,163 were individuals. Families typically experience homelessness due to a financial crisis such as a medical emergency, death in the family, or a car accident. Certain situations prevent families from keeping their homes and they usually require public assistance to help them find jobs, housing, or rent assistance.
Approximately 15 percent of the homeless population is chronically homeless, meaning that they are homeless for long periods of time. Thankfully, the number of chronically homeless people in the U.S. has declined by 21 percent since 2010. Unfortunately, there are still plenty of people living on the streets or in homeless shelters who could benefit from your help, especially during the colder months.
Find A Soup Kitchen Near You
Soup kitchens are always looking for volunteers, but it's still important that you call ahead of time to get on the schedule. The holidays encourage many groups and individuals to volunteer their time, so it's important to call ahead of time or do some homework to see which soup kitchen or shelter has the biggest need for volunteers.
Thanks to the internet, there are many online resources available for people who wish to help the homeless during the holidays, or any time of the year. Check out HomelessShelterDirectory.org to find a list of soup kitchens, food pantries, and food banks near you.
Feeding America is another great resource for finding local food banks in your area. According to Feeding America, they secure and distribute more than 3 billion meals throughout the U.S. each year.
FoodPantries.org is a third resource which allows you to search for food pantries, soup kitchens, and nonprofit organizations that are committed to fighting hunger.
Other Ways To Help
In addition to serving food at local soup kitchens, in-kind donations are also needed. Food banks and soup kitchens are always looking for donations such as:
Canned goods, especially carrots, peas, green beans, and beans.
Canned fruit, especially sliced apples, peaches, pineapples, and mixed fruit.
Coffee creamer, sugar/sweetener, and teabags.
Salad dressings, including mayonnaise. Check out Hampton Creek's Just Mayo, who is working to end world hunger.
Personal care products for men and women, including shampoo and soap.
Napkins, tissues, dish soap, laundry detergent.
Clothing such as hats, mittens, and scarves.
Help Local Children
Car donation is another way to give back during the holidays, or any day of the year. When you donate a car, truck, motorcycle, or boat to Wheels For Wishes, your donation benefits local chapters of Make-A-Wish, helping to grant the wishes of children between the ages of 2 ½ and 18 who are battling critical illnesses.
To donate a car, please call 1-877-431-9474 or donate online using a simple donation form. Donors receive a great tax deduction, plus free pick up or towing of most makes and models of vehicles. Donate a car before 11:59 p.m. on Dec. 31 to make your donation count toward your 2015 taxes.
However you choose to give back this month, you will be helping to bring hope and strength to those who need it.

Back to Blog