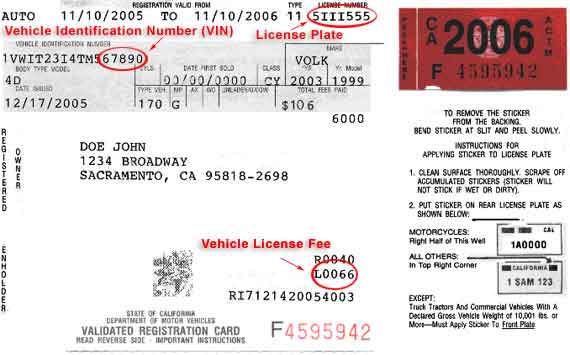 How to register your car in california
Registering your car in California? It is easier than you think! You can even fill out your registration application online. See what a car registration looks like here. Before you get started registering your vehicle, check to see if you have everything you need first:
1. Provide Proof Of Ownership With A Title
You'll have to prove that you are the owner of the vehicle before you register the car in the state of California. Make sure the title is in your name or transferred to your name on the title. Hold onto the bill of sale if you are transferring ownership, this is helpful to the DMV when registering your car.
Here is some more information on the transfer of ownership on California titles.
2. Insure Your Vehicle
If you are not insured make sure you complete this step. Here are a few insurance providers that offer car insurance:
Most car insurance plans are very customizable. Plans can start as low as $40 if you only choose liability coverage.
3. Make Sure You Are In Good Standing At The DMV
Your vehicles registration may be delayed if you have any tickets or open vehicle citations. In the state of California your registration may be withheld if you have these things
Parking tickets
Toll violations
Unpaid vehicle taxes
4. Provide These Documents When Registering Your Car In California
In California, you can register your car online, over the phone, through the mail, and in person. Here are the documents that you'll need:
For First Time Registration, You Will Need These Items:
Your state's identification card or driver's license
Your insurance information for the state the vehicle will be driven
A sales tax payment
Your vehicle's title
Documents stating that your vehicle has passes emissions regulations and a safety inspection
The car's registration application
Private Sale Or Transfer Of Ownership:
Title in your name
When transferring a vehicle to a new owner make sure all of the owners are listed on the title in the "transferred to" line. The sellers must sign the 'assignment of ownership section on the back of the title.
Odometer Disclosure Statement & Bill of Sale.
Renewing Your Car's Registration? Make Sure You Have These:
Your Vehicle Identification Number (VIN)
Driver's license number
Proof of insurance
License plate number
Proof that your vehicle was registered previously (registration card)
Out-Of-State Dealer? Bring These As Well:
Bring the Title of the Manufacturer's Certificate of Origin
Odometer Disclosure Statement & Bill of Sale
5. Smog Check
All California vehicles are required to go through a smog check EXCEPT for these vehicles below:
Gasoline-powered vehicle is a 1975 year model or older (This includes motorcycles and trailers.)
Diesel-powered vehicle is a 1997 and older year model OR with a Gross Vehicle Weight of more than 14,000 pounds.
Powered by natural gas and weighs more than 14,000 pounds.
An electric vehicle.
Gasoline-powered and less than eight model-years old.
Here's where you can find a DMV-authorized smog check station near you. You can also visit smogcheck.ca.gov.
"If you get a DMV registration renewal notice in the mail, and it tells you that you need to go to a STAR station for a smog check, you can find a STAR station near you at smogcheck.ca.gov."
6. Fill Out The California Car Registration Form
The last step is filling out the registration form. You will need your VIN, your license plate number, and your driver's license number.
You will have to provide the accident history of the vehicle or any custom tune-ups the vehicle has had that effect the driving of the car.
Check out this California DMV page to find out what fees you will need to pay for your specific vehicle.
You can register your car in California online or in person here.
You'll need to register your car annually in the state of California.
How to donate your car in california to help make-A-Wish kids
If you are looking to donate a car in California, look no further than Wheels For Wishes car donation program!
Benefit the kids of Make-A-Wish in California with the click of a button. Make a difference from San Francisco, to Los Angeles, to San Diego!
Just call 1-855-278-9474 or fill out our easy online donation form.
Next, we'll arrange your tow within 24 hours of the next business day.
When all is said and done, we'll mail you a receipt that you can attach for your taxes next year!
Whether your car runs or not, Wheels For Wishes takes almost all vehicle donations and we'll pick them up from anywhere in California! Your car donation to Wheels For Wishes also gives you the best possible tax deduction. Help a Make-A-Wish child with your car donation today!