Arizona Recycling Facts and Tips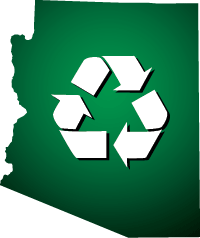 Know the Facts
While color blocking may be the craze inside of shopping malls, inside of Arizona homes it seems that recycling is the new trend. According to a study done in 2009 by the Arizona Department of Environmental Quality, Arizona homes are recycling more than 5 times the amount they were in the 60's.
Percentage of all trash recycled or composted:
1960: 6%

2008: 33%
Solid Waste Collected in Phoenix, Arizona:
Material (in tons) Collected Through Recycling Program in 2009: 129,000
Where to Recycle in Tempe
Interested in recycling but do not know where to go?
Drop off Locations:
Arizona Historical Society Museum
1300 N. College Avenue
Tempe, Arizona 85719
Jaycee Park
817 W 5th Street (Entrance on Hardy Road)
Tempe, AZ 85281
Household Products Collection Center
1320 E. University Dr.
Tempe, Arizona 85281
Kiwanis Park Recreation Center
6111 S All-America Way (Parking lot west of the Rec Center and west)
Tempe, Arizona 85283
South Police Station
8201 S. Hardy Drive
Tempe, Arizona 85284
Tempe Pyle Center/Library
3500 S. Rural (southwest corner of Rural and Southern)
Tempe, Arizona 85282
Creative Ways to Recycle
Lately, people are recycling in new and creative ways. More homes than ever are adopting the "Three R's" (Reduce, Reuse, Recycle) into their lives through many different methods. Here are some great ideas how you can recycle as well:
Reuse your plastic bags as a free lunch box or as a wet umbrella holder (More innovative tips at Real Simple)
Use your old cereal boxes as a drawer organize
Your old paper towel rolls can double as a way to keep your cords neat
Donate your old eyeglasses to a nonprofit like OneSight, that redistributes them to one of the 284 million children or adults worldwide that cannot afford proper eye care and wear
Many charities have programs in placed to reuse several items you may no longer use, ranging from small to large. Including:

Jewelry
Appliances (fridge, laundry machine)
Vehicles (running or not)
Boats
If you donate through a charity, many times there are programs in place that include free pickup of the items being donated so you do not have to pay the large fees that may accompany a garbage service. Also, always record the items being donated with the date of the donation if you plan on submitting anything on your tax returns. As always, Wheels For Wishes will pickup any car doantion for free, giving you the maximum tax benefit.