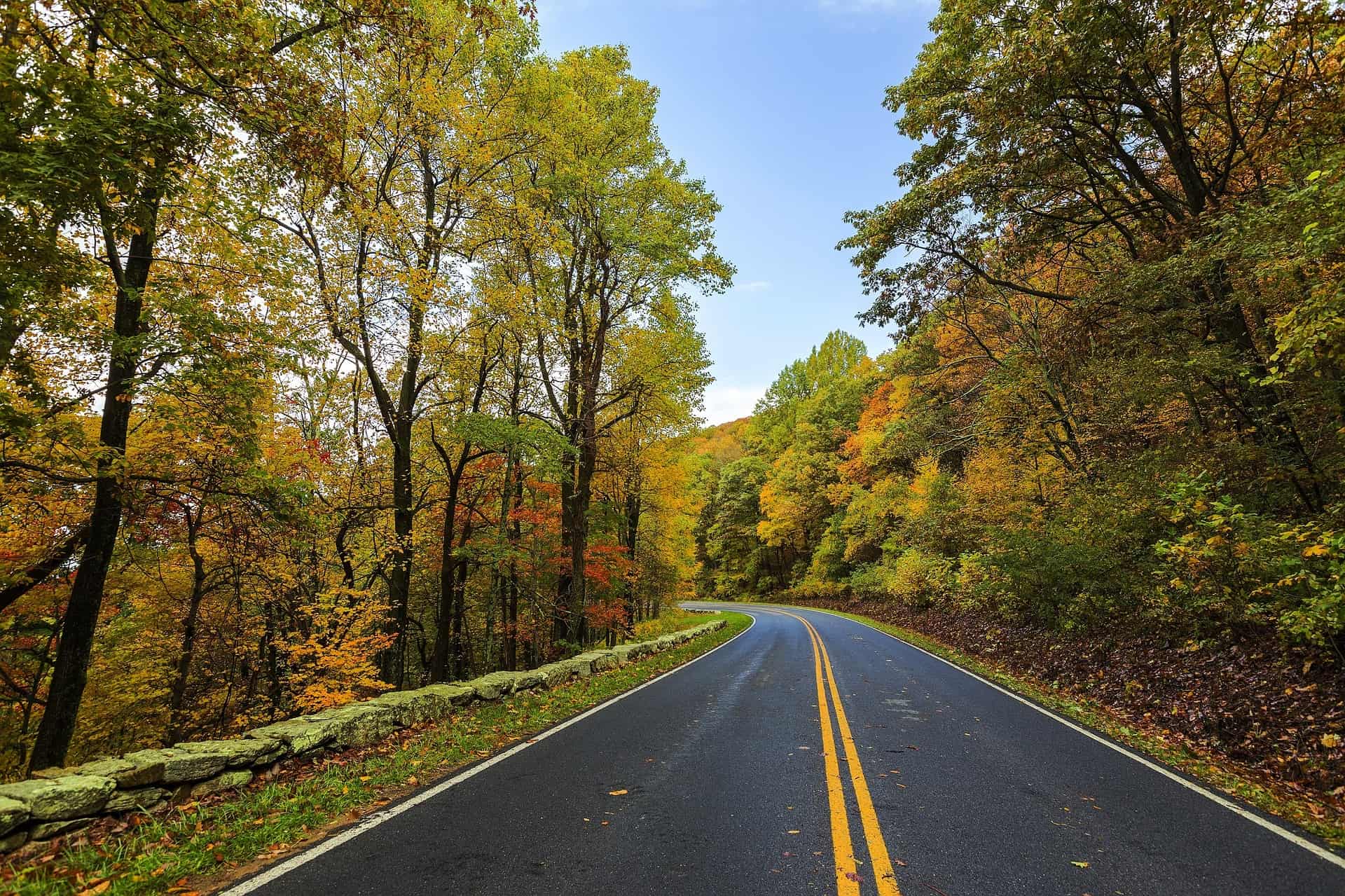 10 Scenic Drives To Enjoy Throughout Virginia
Virginia is a beautiful state home to some of the most scenic drives. If you are looking for great views from your car, you have come to the right place! We have some of the best views from the car listed, as well as the impacts of Covid-19. Check out our guide to some of the Virginia's greatest scenic drives below.
Experience These Well-Known Scenic Drives In Virginia
These five drives are popular for a reason. Read on to explore some of the best scenic routes Virginia has to offer.
1. Cruise Through The Chesapeake Bay Bridge-Tunnel For Ocean Views
Visit Virginia's eastern shore by crossing the Chesapeake Bay Bridge-Tunnel from Virginia Beach. Look out the window one way and see the Atlantic Ocean. Look out the other way and see Chesapeake Bay. Sometimes a scenic drive is as simple as cruising across a bridge with nature all around you. A good place to stop is Sea Gull Island. There you can see birds, seals and whales all while watching the ships go by in a picturesque environment.
This scenic cruise features:
Atlantic Ocean views
Chesapeake Bay views
Nature and wildlife scenery at Sea Gull Island
Here, you can find Chesapeake Bay Bridge-Tunnel Covid-19 information.
2. Travel Around Nelson Scenic Loop
Starting at Wintergreen, Virginia, this route loops up to Waynesboro through Sherando. Then it loops back down to Wintergreen through Greenfield. The Nelson Scenic Loop offers a combination of gorgeous mountain views and lively farmlands. The drive itself takes about an hour. If you like to make stops along the way, Crabtree Falls and the wineries of Rockfish Valley are two amazing detours.
This drive offers:
Mountain views
Farmland scenery
Massive waterfalls at Crabtree Falls
A handful of wineries to choose from in Rockfish Valley
Here's some Covid-19 information for some potential stops on this scenic drive:
3. Make Your Way To Breaks Interstate Park
Start this hour-long drive in Honaker, and end in Breaks Interstate Park in Sand Lick, Virginia. This scenic drive takes you through Jefferson National Forest. Magnificent trees guide your viewing pleasure until you reach Breaks Interstate Park. There the view becomes even more complex as you can see into the deep canyon of Russel Fork River.
This drive is highlighted by:
Honaker: a quaint town with historic building dubbed the Redbud Capital of the World
Jefferson National Forest
View into a 1600-foot canyon leading into the Russel Fork River
Check out the Breaks Interstate Park Covid-19 information here.
4. Ride The Hampton Roads On The Coast
This scenic ride spans from Newport News to the Hampton Roads Naval Museum in Norfolk. This drive passes lakes and rivers, and has bay views throughout. Plus, you'll drive past the nature sights of Sandy Bottom Nature Park. The Hampton Roads are perfect for a drive packed with sights!
Features of this scenic Virginia ride include:
Military museums along the way
Sandy Bottom Nature Park
Great views of rivers and lakes
Beautiful bay views riding over the Hampton Roads Beltway.
Here, you can find Covid-19 information for:
5. Take In History At The Colonial National Historic Parkway
This scenic route from Jamestown, through Williamsburg, to Yorktown is packed with historic sites and natural beauty. Take in the wonderous nature of a drive that rides along the edge of both the James River and the York River. Experience the largest living exhibit in the world with a stop at Colonial Williamsburg Historic Area along the way.
This historic drive displays:
Scenic views of James River to start and York River to end
Colonial Williamsburg Historic Area
Here, find what you need to know about Covid-19 in Colonial Williamsburg.
Take The Road Less Traveled With These Beautiful Rides
These drives are less common than those above, but just as wonderful.
6. Burke's Garden Offers Unique Views
Tazewell County's State Route 623 takes you through Burke's Garden. See for yourself why it's nicknamed God's Thumbprint.
7. Grayson Highlands State Park Takes You Down Roads Lined With Forest
Simply enter Grayson Highlands State Park, and you can't go wrong with where you drive. Located within Jefferson National Forest, you can get lost in the beautiful trees for as long as you want.
8. Take A Quiet Ride Down Secretary's Road
Located in Albemarle County, Secretary's Road is a quiet, scenic ride. Take these curvy roads through trees and beautiful farmland.
9. Rock Point Overlook Looks Down Over Mountains And Valleys
Travel into Roseland Virginia to experience Rock Point Overlook. Either get out of your car or keep driving to see an endless horizon of mountains and trees.
10. Drive Route 5 East Out Of Richmond
This drive on Route 5 heading east from Richmond features historic farms and perfectly-narrow roads. Ride this scenic route in the fall for a truly beautiful color spectrum of trees.
Get The Most Out Of Virginias Most Scenic Drives
A scenic drive reaches its full potential when you have no distractions. A noisy car, a ride that isn't smooth, or having to stop for gas are just a few things that can derail a scenic ride. Upgrade your car to one that's smooth, fuel-efficient and quiet. Then, donate your old one to Wheels For Wishes Greater Virginia.
Why Wheels For Wishes? We are an environmentally friendly, nonprofit car donation organization. We benefit Make-A-Wish Greater Virginia with the proceeds from your car donation. That means your generous donation helps grant wishes for Virginia kids facing critical illness. Plus, you get benefits like free towing and a great tax deduction.
Donate your car today by calling 1-855-278-9474 or by filling out an online donation form. Virginia's scenic drives are waiting for you!