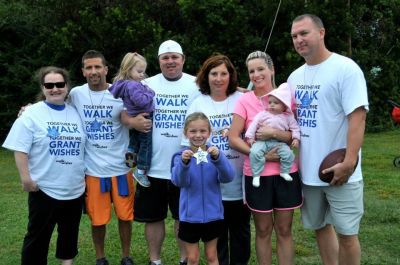 Many Walks For Wishes To Help Make-A-Wish In September
Whether you live in Vermont, Washington or anywhere in between, September offers you a great opportunity to help grant wishes all over the country. There are several Walks for Wishes in September all over the country that will help benefit your local Make-A-Wish chapter. When you take part, you can help a child with a critical illness.
Walk For Wishes West Michigan
The 2015 Walk for Wishes – West Michigan is taking place Sept. 12 at the John Ball Zoo in Grand Rapids. This fun 1.5-mile walk through the zoo will feature fun activities and food for the participants, as walkers help grant wishes for children with critical illnesses. There is no registration fee to attend the event, and each walk participant is encouraged to raise a minimum on $100.
Registration on-site starts at 7 a.m., the opening ceremony is at 9 a.m. and the walk stats at 9:30. Perks of participating include: Morning refreshments, complimentary lunch following the walk, family-fun entertainment and activities, full access to the John Ball Zoo until 5 p.m., and of course the joy of helping make children's wishes come true. Register today on the event's website.
Vermont Walk For Wishes
Gather friends and families at the beautiful Shelburne Museum (6000 Shelburne Road) in Shelburne on Sept. 13 for the Vermont Walk for Wishes. Get your friends, family, and colleagues to join you and invest in the Make-A-Wish mission. Online registration is $35 for families, $15 for adults, $10 for children aged 12-17, $5 for children 6-11. Kids 5 and under are free. With your registration fee enjoy unlimited access for the day to the Shelburne Museum, a picnic lunch, a commemorative Walk for Wishes t-shirt and all Walk for Wishes activities. For more information, contact Jerica Dziki at 802-585-1009.
Washington Walk For Wishes
The Make-A-Wish Alaska & Washington Walk for Wishes will again be held at Marymoor Park in Redmond (6046 West Lake Sammamish Pkwy NE). When you take part, you can take the first step in making wishes come true for local children battling critical illnesses by joining us at this year's family-friendly 5K walk and fun run on Sunday, Sept. 13. This includes snacks, kids' activities, wish inspiration and entertainment with your family and friends. For more information call 800-304-9474.
Walk For Wishes North Jersey
Liberty State Park in Jersey City (76 Audrey Zapp Dr.) hosts the North Jersey Walk for Wishes event on Saturday, Sept. 26. The 5K runners can take part in the USA Track and Field-certified and sanctioned course that winds through the park and onto the promenade that overlooks the Statue of Liberty. Awards are given to 1st, 2nd and 3rd place for Overall Male & Female and Top Male & Female in the following age categories: 14 & Under, 15-19, 20-29, 30-39, 40-49, 50-59, 60-69, 70 and older.
Registration for the 5K run event is $25 for adults before Sept. 25, or $35 the day of the event. Teens or kids running the 5K are $10 each. Walkers 18 and older are $25 and walkers between 5 and 17 years old are $10 each. T-shirts are available for all pre-registered runners and walkers, and t-shirts will be available for day-of registrants on a first come, first serve basis. For more information, contact Danielle Nalbone at 800-252-9474.
Eastern North Carolina Walk For Wishes
Wrightsville Beach Park (1 Bob Sawyer Drive) in Wrightsville Beach, N.C., will host the Eastern North Carolina Walk for Wishes 5K on Sunday, Sept. 27. Day-of event registration and check-in begins at noon with the walk starting at 2 p.m. All participants are asked to arrive between 12 and 1:30 pm. Local children who have either received their wishes or are currently having their wishes scheduled will be recognized during a ceremony beginning at 1:30 pm. Registration is underway at the event website. For additional information regarding the Walk for Wishes, e-mail Janis Netherland at jnetherland@eastnc.wish.org, or you can call her at (910) 399-1375.
Help Make-A-Wish, Even If You Can't Make A Walk
If you don't live near one of these Walks for Wishes but still want to help children in places like Oakland, Miami, Syracuse, or almost any other city, we have a way that is a win-win. Wheels for Wishes is a car donation charity that benefits Make-A-Wish chapters around the county. If you have an unwanted vehicle taking up space in your driveway or garage, please donate it to Wheels for Wishes, benefiting Make-A-Wish. Your car donation will be transformed into a magical wish for a child, and you can truly feel great about that.
To donate a vehicle, please call 1-855-278-9474 or fill out our online donation form. You can also find the Make-A-Wish chapter that Wheels for Wishes supports nearest you. Car donation is easy; even if you aren't sure how to donate a car, our experienced car donation representatives will walk you through the process and answer any questions you might have. We will pick-up or tow away your vehicle at no cost to you in almost any city in the country. Your car can be out of your garage and on its way to making a difference in the life a Wish Kid. Make the call today!