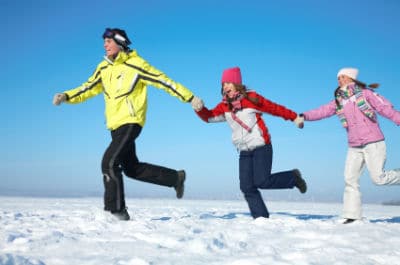 Winter Is Here, Fight That Cabin Fever With These Great Winter Activities For Kids
It is easy to stay inside when the weather isn't 72 and sunny, but getting exercise and soaking in some sun are important throughout the year. This is especially true for children – the average child should get more than one hour of exercise every day, according to the Centers for Disease Control and Prevention. If there is more than one foot of snow outside your home that might be difficult, but there is still plenty to do throughout the winter!
Even if what your child is participating in doesn't involve a lot of movement, just limiting the amount of time a child spends in front of a screen can have a huge impact on their physical well-being. If you are having trouble coming up with fun activities that your children can do this winter, don't worry! We have compiled a list of fun activities for kids to do this winter.
Have A Snowball Fight. Get warm mittens and a heavy jacket, then head outside for a day of fort building, fort destroying and tactical lobbing of snowballs from one fort to another. Snowball fights have been a tradition in colder states for generations.  Nothing will get you in the mood for winter faster than the kids pitching in together to build an impenetrable snow-fortress in anticipation of a snow battle.
Bake Some Winter Treats. Maybe the temperature is too cold to be spending a lot of time outside. There are still things that can be done to keep eyes off of those digital screens for a while. Winter is the best time to do some baking. Whether you are making classic sugar cookies, or a family recipe, cooking with your family can bring everyone closer together. Plus, when you cook in the winter, the heat from the stove can help warm up your home – which is especially useful when Mother Nature is being unkind outside.
Go Ice Skating. Most of the time ice can be a real drag. It makes your car slide around and you fall on your butt in public more times than you'd care to admit. But, you can take advantage of the icy season by tying your ice skates tight, sharpening your blades and gliding on the ice in style. Who cares if you still haven't perfected stopping? That's why those snow piles are there at the end of the rink, right? Ice skating is fun for the whole family, no matter the skill level.
Hit The Slopes. For those among us who enjoy high speeds and the wind in their hair, winter might be your favorite season! During the long months of winter, take some time to enjoy some of the sledding hills and ski slopes in your community. Bring your family to the sledding hill, build some minor jumps and watch the smiles on your children's faces grow.
Build A Snowman. For those people looking for a little less action, building a snow man can be a great solution. Snow is at its stickiest when it has just fallen, so the next time there is a two-hour delay for school or it is cancelled completely, head outside and roll yourself a snow man. Fit it with a magical hat and  more adventures might await you still!
Add Some Color To The Snow In Your Yard. Do you ever get tired of the white of winter? Everywhere you look there is more white. Now, there is something you can do to change that monotony. Create a colorful winter by coloring your snow covered lawn! All you need to do is fill an empty spray bottle with water and non-toxic food coloring. Let your kids paint using the snow as their canvas!
Get Philanthropic. During the winter, more than any time of the year, nonprofits and charities are looking for volunteers. Get started on making a difference in your community by planning a day of giving back with your family. Whether you choose to help at the local food shelf, homeless shelter or animal shelter, your contributions will make a huge difference. You can also show your kids the importance of giving by making a car donation to Wheels For Wishes! Wheels For Wishes benefits Make-A-Wish and will pick-up or tow your vehicle donation at no cost to you! Plus, you donation is tax deductible and will help make wishes come true. Donate today by calling 1-855-278-9474 or using our easy online donation form.
Go Camping In Your Living Room. If you are craving the great outdoors, but not the cold weather, a camping trip to your living room might be just what the doctor ordered. Put up a tent or just build a blanket fort, enjoy a holiday movie, bake some cookies or make s'mores over the stove and pretend you are outside enjoying a warm fire! You can make camping memories without even leaving the living room.
Be A Tourist In Your Own Town. When is the last time you saw all there is to see in your community? You can be sure people pay good money to travel to your city, whether you live in St. Paul, Philadelphia or Salt Lake City. Get out and enjoy all your city has to offer by taking your kids to local museums, theaters and parks. Become an expert in your own town.
Fight cabin fever this winter season by enjoying some time with your family. There is plenty to do this winter, even if it feels like the snow is weighing you down. Get creative! If you know of any fun activities that you or your family enjoy each winter, share them with us on our Facebook and Twitter pages.