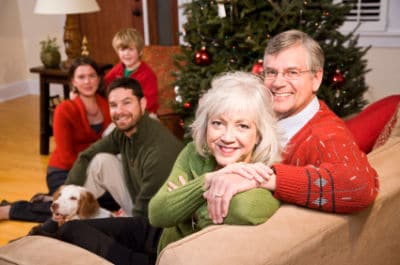 20 Holiday Movies For Your Family To Enjoy
We've already started hearing holiday music on the radio, we've eaten to our heart's content on Thanksgiving and even survived Black Friday – the next step before the holidays officially arrive is seeing all of our favorite holiday movies on television. Everyone has a favorite holiday movie to watch with their family – whether it's a heart-warming story about a Grinch who saved Christmas, or the story of a boy who really wanted that Red Ryder BB Gun, there is a movie for everyone!
Here is our top 20 list for holiday movies to watch with your family this year:
A Christmas Story – Narrated from the point of view of a boy (Ralphie) who wants nothing more than a Red Ryder BB Gun for Christmas, this movie plays on a loop as the holidays get nearer.
Miracle on 34th Street – A classic holiday movie. When a man is institutionalized for believing he is Santa Claus, a lawyer defends him arguing that the man is, in fact, Santa.
The Santa Clause – Tim Allen stars in this film, when he suddenly becomes the new Santa after the old Santa falls off his roof. As a bonus, there are two additional films in The Santa Clause series.
The Polar Express – A doubting boy boards a train that travels to the North Pole on Christmas Eve.
The Muppet Christmas Carol – A Muppet twist on the classic Christmas Carol story in which Ebenezer Scrooge learns a lesson on the value of friends and family.
How The Grinch Stole Christmas – Modern or classic version, each is great! The miserable old Grinch meets a young girl on Christmas Eve and has a change of heart.
A Charlie Brown Christmas – Charlie Brown becomes disgusted by all of the commercialization of Christmas, so he sets out on his own to find the true meaning of the season.
Rudolph the Red-Nosed Reindeer – Learn the story of the most famous Reindeer of all in this stop-animation classic.
Mickey's Once Upon a Christmas – Anyone who likes the classic Disney characters will love this three-part Disney movie starring Goofy, Daffy-Duck, and of course Mickey Mouse.
White Christmas – This movie is for anyone who likes classic holiday music from some of the most iconic singers of the 20th century.
Frosty The Snowman – The tale of a snowman who became real after wearing a magic hat.
Shrek The Halls – A spinoff of the classic Shrek, this thirty minute TV special has all of the gang back in time for the holidays.
Home Alone – If it's Home Alone, it has to be the classic. A young boy is left behind when his family travels on Christmas vacation, hijinks ensue.
It's a Wonderful Life – The heartwarming tale of a man who sees what life would have been like for the people in his life had he never existed.
A Chipmunk Christmas – Alvin helps a child who is struggling through illness by giving away his prized possession.
Mickey's Christmas Carol – The classic Christmas Carol story told with Disney Characters.
Twas The Night Before Christmas – Santa is insulted by a letter that insists he does not exist, and decides not to visit that town this year.
Jack Frost – A boy's father passes away, but comes back as Jack Frost, a lively snowman.
Elf – Elf, the main character, finds out he is actually an adopted human and sets out to find his real dad.
Santa Claus Is Comin' To Town – The original classic, this movie tells all of the stories of how Santa and everything Santa-related came to be.
Enjoy these great holiday movies with your family this year! Did we miss some holiday classics that you and your family have made traditional holiday movies in your household? Share them with us on our Facebook, Twitter or Google+ pages.
Help Brighten The Year Of A Child With A Donation
While we are enjoying some of these holiday classics, it is important to remember that now is the season of giving. There are thousands of children battling critical illnesses every day. You can be a bright spot in a gloomy holiday season for these children by helping to provide a wish through Make-A-Wish.
Whether it is a standard monetary donation given directly to Make-A-Wish or donating a car to Wheels For Wishes to benefit Make-A-Wish, your donation will make a huge difference in the life of a child. To learn more about how your car, motorcycle, camper, SUV, ATV or boat can benefit Make-A-Wish or to make a donation, call 1-855-278-9474 or fill out a vehicle donation form online.