Four Fun Events To Benefit Make-A-Wish Illinois This Summer
Posted in
Donate Car News
, Thursday, June 18, 2015 Last modified: Friday, March 6, 2020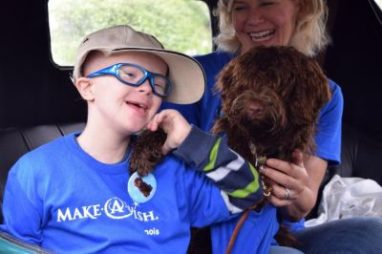 This summer, there are a few great opportunities to benefit Make-A-Wish Illinois. If you have an unwanted vehicle that you no longer want or need, vehicle donation might be the perfect opportunity for you to help Make-A-Wish Illinois. Not only is vehicle donation green and eco-friendly, but it also helps to fund wishes for kids living in areas like Chicago, Springfield, Peoria, Joliet, Rockford, East Saint Louis, and Aurora. Vehicle donation also gets you a great tax deduction, plus free pick up or towing of your vehicle. 
Help Make-A-Wish Illinois This Summer
If vehicle donation isn't on your list of to-do's this summer, there are other ways to help Make-A-Wish Illinois grant wishes for local kids with critical illnesses. If you do have a vehicle to donate, please call 1-855-278-9474 or fill out an online car donation form and your vehicle will soon be on its way to making wishes come true!
Even if you don't have a vehicle to donate, you can help to make wishes come true when you attend any of the four upcoming events benefiting Make-A-Wish Illinois this July. Flip For Wishes on July 11, attend the Trzask International Golf Outing on July 18, run in the Rock 'N' Roll Half Marathon on July 19, or Roll For A Cause on July 25. Earned proceeds from all four events help to fund wishes of children living in Illinois.
Four Different Events To Choose From
This July, there are events for nearly everyone to enjoy. Attend an annual flip cup tournament at Joe's Bar in Chicago (940 West Weed Street), and have a great time while helping to make wishes come true. The Flip For Wishes tournament will take place on July 11 from Noon until 3 p.m., with registration beginning at 11 a.m. Get a team together or show up to cheer on your friends – the choice is yours! Guests will enjoy an open bar during the entire length of the tournament.
To attend the Flip For Wishes tournament, participants must be 21 years of age or older. Registration is $150 for a team of four, or $35 per person for those who go to cheer on their friends. Registration prices will increase on the day-of, so register today! You can register by sending an email to flip4wishes@gmail.com. Include your team name, the names of any additional team members, and one contact phone number.
Golf, Rock, Or Roll For A Cause
Whether you like to golf, or you'd rather rock and roll for a cause – there are three more events to choose from that will help to benefit Make-A-Wish Illinois this summer. The Third Annual Trzask International Golf Outing takes place at 1 p.m. on July 18 at the Silver Lake Country Club in Orland Park (14700 South 82nd Avenue).
Participants can golf for $80, but spots are limited so be sure to reserve your spot today by sending an email to trzask@icloud.com. The registration fee includes hot dogs, soda, snacks, prizes, and food. If you like to golf, this is the perfect event for you!
Rock 'N' Roll For Make-A-Wish
If golfing isn't your thing, maybe running is. If you enjoy running, don't miss the Rock 'N' Roll Half Marathon taking place on July 19 at Grant Park (Columbus Drive and Monroe). The race will conclude at Grant Park (Columbus Drive and Congress). The race will highlight many of Chicago's famous sites, making it a scenic run with live music from local bands.
Race participants will receive an event t-shirt, gear bag, course support, finishing certificate, and free admission to the Finish Line Festival and Health and Fitness Expo. Learn more about the details of the event here.  
There is no fee to register for the race, but fundraising is strongly encouraged. Register today and begin fundraising for Make-A-Wish Illinois!
Roll For A Cause
If you enjoy wrestling or martial arts, the Roll For A Cause event is for you. If you are interested in learning more about Roll For A Cause, the fourth Make-A-Wish event this July, please email rollforacause@hotmail.com. This event combines submission wrestling and martial arts into an open tournament with all earned proceeds benefiting Make-A-Wish Illinois. Registration is $75 per competitor, and $10 for spectators.
How Will You Help Out This Summer?
Whether you will use vehicle donation to help out Make-A-Wish Illinois this summer, or you will attend one of these four fun events, you will be helping to grant wishes for kids in your community. Help to enrich the human spirit with hope, strength, and joy and register for one of these four summer events today!

Back to Blog