Brave The Cold Waters Of The Illinois River To Benefit Make-A-Wish
Posted in
Donate Car News
, Tuesday, December 2, 2014 Last modified: Friday, March 6, 2020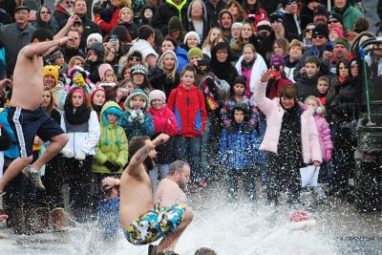 The waters of north-central Illinois won't be warm for quite a while. But if you're a hearty soul that doesn't mind a dip in the cold waters of the Illinois River, you can dive on in and help support Make-A-Wish Illinois.
On Jan. 3, 2015, Heritage Harbor Ottawa and Quest Watersports will host the Penguin Plunge, an event that challenges hundreds of brave jumpers to jump together and make wishes come true for children facing critical illnesses. Whether you jump in as part of a team or as an individual, it's a great way to get involved in supporting Make-A-Wish Illinois.
Sign-Up And Dive In!
All you have to do is raise $100 minimum for the opportunity to take the plunge! All of the money raised goes to benefit Make-A-Wish Illinois and granting local children's wishes. The goal of the Penguin Plunge is to raise $100,000, which will help grant more than 10 wishes. 
Teams or individuals raising over $6,000 will receive a Wish Plaque from Make-A-Wish! Top Individual Fundraiser, Top Fundraising Team and Best Team Spirit are just some of the awards to be given. This is a fun event for everyone!
Donations can be turned in on Monday, Dec. 29 from 11 a.m.-1 p.m. at the Centrue Bank (Ottawa North Branch) at 400 Etna Road, and from 5-7 p.m. at the Heritage Harbor Marina. Centrue Bank employees will then re-open registration at noon at the event on Jan. 3. All plungers who pre-register online can turn in donations on Dec. 29 or save until Plunge Day. Set up a personal fundraising webpage through Make-A-Wish to make donating even easier for your friends and family. 
To download a pledge sheet, or for additional information and updates including how to set up an online donation page and jump times please check the event's Facebook page.
Rather Stay Warm? Help Support Make-A-Wish In Another Way
But that doesn't mean you can't help Make-A-Wish Illinois in other ways. One way may be as close as your garage or driveway, thanks to our car donation charity. Wheels For Wishes, benefiting Make-A-Wish Illinois, can take your unwanted car, truck, boat or RV and help it become a wish for a child.
Most makes and models of vehicles are accepted, and vehicles are picked up or towed away at absolutely no charge to you, at a time and place that's most convenient for you. Plus, it's easy to donate! Cars, trucks, boats, campers – just give us a call at 1-855-278-9474 or fill out our donation form. Your donation benefits Make-A-Wish Illinois and helps to grant the wish of a child with a critical illness.
Your car donation helps to grant wishes for kids in Chicago, Springfield, Peoria, Joliet, Rockford, East Saint Louis, and Aurora. Help out and donate today!

Back to Blog