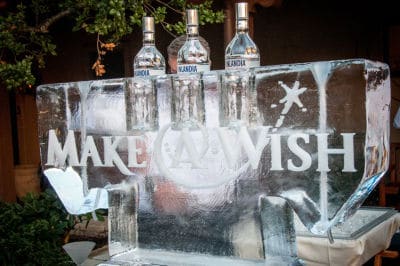 Attend The Monterey Bay Gala, One Of The Social Events Of The Year
Each year, the Monterey Bay Gala is not only one of Make-A-Wish Greater Bay Area's hottest events, but is one of the ultimate social events on the Monterey Peninsula. Each year, guests enjoy a night of fine dining, silent auctions and world-class entertainment at Clint Eastwood's Tehama Golf Club in Carmel. You'll feel like a celebrity at the Monterey Bay Gala. It's a great party set in a stunning Carmel Valley location, with entertainers that can fill arenas. Every year features a different theme, and this year will sell out - just like it does every year.
Every year has a new, fantastic theme, and this year is no different. Get your sharpest looking black-tie attire for the James Bond Ball, an elegant evening paying homage to all things Bond. This year's event takes place on Nov. 7 - or 11.007.2015!
Enjoy Cocktails And Dinner, Then Dance The Night Away
The Monterey Bay Gala is truly a night to remember. Once you attend, you will want to keep coming back year after year! The event begins at 5 p.m. with cocktails and a silent auction. Enjoy two hours of socializing and cocktails before heading over to the beautifully-decorated dinner tent, where you will enjoy wine and a three-course meal. The dinner, live auction, and entertainment will be held from 7-10 p.m.
Past entertainers have included George Lopez, Tony Bennett, Robin Williams and Brad Paisley, so stay tuned for this year's fantastic performer!
Tickets Go Fast So Purchase Your Tickets Today
An Individual Ticket goes for $500 per person; every effort is made so that you are seated with guests of your choice, but preferred seating is not guaranteed. The $750 Silver Ticket includes preferred seating and may be a better fit for your group. A $1,000 VIP Ticket includes premium event seating.
If you are looking to purchase tables at the event, choose from the Silver Table for $7,500 or the Gold Table for $10,000. Each table seats 10. The VIP table offers premium table seating, recognition at the event, and an acknowledgement gift featuring a Make-A-Wish Wish Kid. Whatever type of ticket you purchase, you will be enjoying one of the hottest nights of the year, all while benefiting an excellent cause. Purchase your Monterey Bay Gala tickets today and show off your best Bond attire.
Unable To Attend? You Can Still Help!
When you attend the Make-A-Wish Greater Bay Area's Monterey Bay Gala, you are helping to make wishes come true for kids battling critical illnesses. Proceeds from the event benefit Make-A-Wish Greater Bay Area and allow Make-A-Wish to grant the wishes of kids living in San Francisco, San Jose, Santa Rosa, Oakland, Fremont and all over the Bay Area. When a child has their greatest wish granted, they are given the chance to feel like a celebrity for a day, but it also gives them the hope and strength that they need to get through the difficulties that they are faced with.
If you can't attend the Monterey Bay Gala, you can still help Make-A-Wish Greater Bay Area when you donate a car. Car donations to Wheels For Wishes benefit Make-A-Wish Greater Bay Area and help to make wishes come true for kids in your community. Wheels For Wishes is also a proud supporter of the Monterey Bay Gala and is committed to making wishes come true!
To donate a car, truck, boat, or motorcycle, please call 1-855-278-9474 or make your donation online with our car donation form. When you donate, you receive free pick-up or towing of your vehicle as well as a great tax deduction.
Purchase your Gala tickets today or donate a car - both will help to grant wishes for local children!