Recycling Your Old Car Parts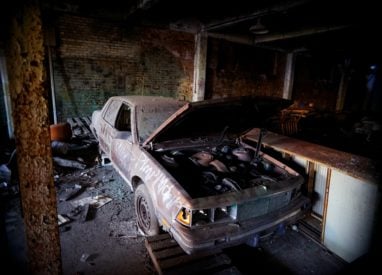 If you're not sure what to do with old car parts, consider recycling them. Recycling car parts reduces waste and is good the environment. Plus, it can be an easy process. Here we'll explain what car parts you can recycle and how:
How To Recycle Car Parts
You can recycle 90 percent of old cars. Most car parts are recyclable! Here are the car parts most often recycled:
Batteries
Belts
Carpets
Mats
Metals
Oil Filters
Radiators
Rubber Hoses
Tires
Transmissions
Wheels
Windshields
How do you recycle car parts? First, consider donating the whole car. If you have a whole unwanted car, save yourself the effort recycling the individual parts.
You can donate it to Wheels For Wishes. We will come to you with free towing and you will get a great tax deduction. Wheels For Wishes is a charity car donation program benefiting Make-A-Wish. Your donation helps fund wishes for local kids facing critical illness.
To recycle your car by donating it to Wheels For Wishes, call 1-855-278-9474. You can also fill out our easy online donation form instead.
Another great option is to call your local recycling plants to see if they will accept your car parts. Some will have you drop them off. Some will pick them up for you. Some may pay you for your car parts. Give them a call ahead of time to see what option is best for you.
Why Recycle Car Parts?
Recycling car parts saves energy and our natural resources. Rather than adding to waste, these car parts can be used to create new products and materials.
Metal, for examples, recycles without losing quality. The scrap metal from your car can be used again and again. Making new products from recycled metals takes far less energy than mining and refining. Plus, you aren't digging into the earth and mining a limited resource.
Tires have an 80 percent recycle rate. You can use recycled tires to help make roads or even more tires at a retread facility. You can recycle batteries to make new ones. A ton of recycled glass saves 10 gallons of oil in glass production. Recycling your car parts really makes a difference!
Frequently Asked Questions – Recycling Car Parts
Do you have questions about recycling car parts? We have answers. Here is our car part recycling FAQ:
Do junkyards buy parts?
Junkyards typically prefer whole cars. Some will still accept parts depending on condition and value. If you are considering recycling the whole car, donating to Wheels For Wishes is a great option. We come to you with free towing, and we give you a 100 percent tax-deductible receipt.
What do you do with old car parts?
You have three great options for your old car parts:
You can recycle them.
You can also upcycle. Upcycling possibilities for your old car parts are endless. You can create practical household items or works of art.
Donate them. Wheels For Wishes, for example, accepts donated cars and the proceeds benefit Make-A-Wish kids.
Does anyone buy car parts?
Yes. There are several online avenues to sell your car parts. There are also local recycling plants or auto salvage yards that often buy car parts. Typically you will receive more interest if your parts are in good condition. Check all your options and see what is best for you.
What parts of a car are worth money?
This often depends on your particular car. However, these seven recycled car parts often get the most value:
GPS system
Fenders
Catalytic converters
Air bags
Doors
Bumpers
Wheels/Tires & Rims
Can plastic car parts be recycled?
Yes. Dashboards, lights, bumpers and gas tanks are just a few recyclable plastic options.  
What is worth scrapping?
It's worth it to scrap your car. The question is: how should you scrap it? The best way is to donate it to Wheels For Wishes. That's because we come to you. We pick up and tow your car for free. We send you a tax-deductible receipt for your to claim a great tax deduction. Your donation is recycled and benefits local Make-A-Wish kids.
How much of a car is recyclable?
90 percent of a car is recyclable.
What are recycled cars made into?
Recycled cars are made into many different things. A few examples are:
Car frames
Metal cans
Trolleys
New tires

Back to Blog