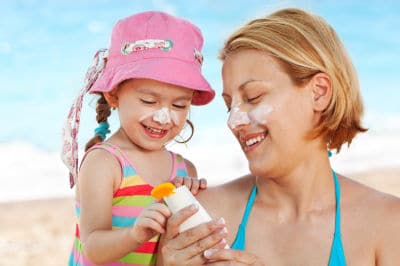 May Is National Melanoma And Skin Cancer Detection And Prevention Month
It's that time of the year when sun protection is crucial, and frequent reminders must be made to cover up the skin, wear sunscreen, and get screened when any suspicious mark or mole appears somewhere new. Since skin cancer is the most common type of cancer in the United States, it is important to remember that May is National Melanoma and Skin Cancer Detection and Prevention Month. The best way to spread the word is by keeping yourself safe and setting a good example! Whether you live in San Francisco, Honolulu, Anchorage, or Syracuse, practicing safe sun is a must.
Children Should Learn Sun Protection At A Young Age
It has been a long, cold winter, and everyone is anxious to get outside to spend some time under the sun. For this reason especially, it can be tough to catch a child before they bolt out the door to play outside or go for a swim. However, sun protection is incredibly important, and it's important to teach children early on in life.
During the month of May, people are encouraged to help spread the word about the importance of sun protection, detection, and the harmful effects of UV radiation. Speak to teachers and administrators and ask them to bring the topic up in class, and meet with youth leaders in your community to see if they can talk to their peers about preventing skin cancer.
Team up with a local hospital or organization to host a skin cancer screening event. It is never too early to get screened!
Spread Awareness Through Social Media
Social media has the power to change the world, which is why it is so important to use all of the fantastic tools that are now readily available. During the month of May, use your Facebook and Twitter profiles to spread the word about skin cancer detection and prevention. Choose from the following templates provided by the U.S. Department of Health and Human Services:
What is the main cause of skin cancer? Being exposed to UV radiation from the sun.

Did you know? Skin cancer is the most common type of cancer in the U.S.

Go the extra step: Protect yourself from #skincancer by doing a skin self-exam.

Be cool and wear your shades – UV rays can hurt your eyes.

Health Tip: Put sunscreen on 30 minutes before you go outside to help prevent #skincancer
If you haven't already, please follow Wheels For Wishes on Facebook, Twitter, and Google+ for more information on skin cancer detection and prevention during the month of May.
Lower You And Your Child's Risk Of Skin Cancer
When skin cancer is not caught early, it spreads to other parts of the body and is called melanoma, which is much more serious. 1 in 50 men and women will be diagnosed with melanoma of the skin during their lifetime.
In the United States alone, the percentage of people who develop melanoma has more than doubled in the past three decades. Melanoma is the most common form of cancer for young adults ages 25-29 years old and the second most common form of cancer for young people ages 15-29 years old. Early detection is important, which is why skin checks should start from birth on! Some children are actually born with congenital moles and can pose a risk of skin cancer, so skin checks should always be performed.
To practice safe sun, apply an SPF of at least 30 about 15-20 minutes before sun exposure. Re-apply every two hours or after excessive sweating or swimming. Use enough sunscreen to generously coat all exposed skin. This also includes a lip balm with an SPF or at least 30 or higher.
Help To Grant Wishes For Kids With Life-Threatening Medical Conditions
Skin cancer and other medical conditions can develop at any age, which is why Make-A-Wish works so hard to grant the wishes of kids between the ages of 2 ½ and 18 with serious medical conditions. You can help, too, by spreading the word about the importance of early detection and safe sun practices, but also through car donation.
When you donate a vehicle to Wheels For Wishes, benefiting Make-A-Wish, you can help to grant a wish for a child who may be battling skin cancer or another medical condition. Your car donation can help to bring hope, strength, and joy back into the life of a child in your community. Call Wheels For Wishes at 1-855-278-9474 or fill out an online car donation form.