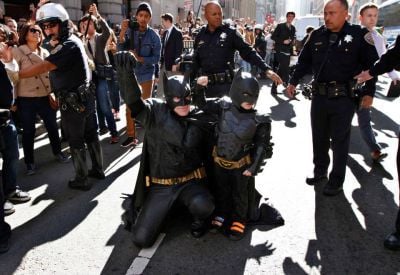 Get Inspired At Batkid Begins, Opening This Weekend
You may have heard about the leukemia-beating 5-year-old, dubbed Batkid, who inspired hundreds of thousands of Twitter and Instagram users to cheer him on back in November 2013. Now's your chance to see the new film starring the Batkid himself! June 26 is the opening weekend of Batkid Begins in select theatres.
If you live in New York City, Los Angeles, or San Francisco, you'll have an opportunity to see the movie first. Head to the Angelika Film Center in New York City, The Landmark theater in Los Angeles, or to The Landmark or Sundance Kabuki theatres in San Francisco.
If you aren't near a select theater that's showing Batkid Begins on June 26, don't worry! The movie rolls out across the nation this July. Just check your local showtimes once July comes around.
The Story Of BatKid Begins
What started as a wish through Make-A-Wish Greater Bay Area inspired filmmaker Dana Nachman to make a documentary about the power of the Batkid's Wish. Five-year-old Miles inspired people around the world with his wish to become Batkid, Batman's sidekick, so he could save the city from a barrage of villains. The entire community came together on the day of his wish to transform San Francisco into Gotham City. Batkid spent the day ridding the town of evil and saving the day, and even got a key to the city from the Mayor.
Needless to say, Batkid's heartwarming wish became a sensation. Batkid Begins tells the story of just how far-reaching and inspiring the wish truly was.
Help Spread The Word
If you can't make it to the movie, you can still help make it a success by spreading the word on social media. Back when Miles had his wish, Make-A-Wish hoped to get several hundred fans to show up and cheer on Batkid at the San Francisco City Hall. However, the wish went viral and the response was so great that more than 20,000 people showed up to be a part of the day.
You can help Batkid Begins take off by sharing the word online with #BatkidBegins, #BatkidPose, or #SFBatkid. If you do catch the movie, you can help out by leaving a review on IMDb or Rotten Tomatoes.
Batkid Begins Supports A Great Cause
The documentary is an inspiring story of how powerful wishes are, but it also supports a great cause. Director Dana Nachman is donating her percentage of the film proceeds to the Batkid Fund, which supports five different San Francisco charities including Make-A-Wish.
Help Support Make-A-Wish In Other Ways
Attending Batkid Begins is a great way to get involved in the Make-A-Wish mission. If you can't make it but are still looking for an easy way to give back to Make-A-Wish, consider a vehicle donation to Wheels For Wishes. Our car donation program benefits Make-A-Wish Greater Bay Area, and your donation is tax deductible.
You can donate your car online or over the phone at 1-855-278-9474. Our representatives take care of everything for you, and your unwanted car, boat, RV, or motorcycle will quickly be on its way to helping wishes come true!