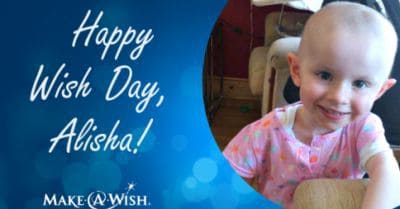 7,000th Wish Granted by Make-A-Wish Massachusetts and Rhode Island
For 27 years, Make-A-Wish Massachusetts and Rhode Island has been granting wishes to children with critical illnesses – 6,999 wishes to be exact. On Sept.26, the chapter hits the milestone 7,000th wish when it grants three-year-old Alisha Savage's wish to go to Walt Disney World Resort.
Alisha's milestone wish is sponsored by American Airlines and the Something mAAgic Foundation's mAAgic Flight, offering Alisha and her family a seven-day stay at Give Kids the World Village and an unforgettable vacation experience visiting Central Florida's attractions.
"We are so grateful to American Airlines for their partnership in fulfilling Alisha's wish," says Charlotte Beattie, Chief Executive Officer of Make-A-Wish Massachusetts and Rhode Island. "We extend our deepest gratitude to all of our generous supporters who have enabled us to reach this significant milestone in providing joyful wish experiences to thousands of seriously ill children throughout the community."
American Airlines employees and Make-A-Wish Massachusetts and Rhode Island supporters were scheduled to take part in a celebratory send-off party for Alisha at Logan International Airport at 6 a.m. on Sept. 26. The family's limousine was met at the American Airlines terminal by a large group of cheering fans and a princess-welcome committee. Her departure gate was transformed into a castle, she will be treated to personalized welcome announcements both at the gate and on the plane, and she enjoyed a royally-decorated seat on the aircraft, as well as a plane spray down by the Boston Fire Department.
Even if you couldn't make it to Logan Airport, you can take part in the festivities. Make-A-Wish Massachusetts and Rhode Island has created a special "7,000 Wish!" E-card for Alisha that can be viewed and signed by her fans and supporters across the globe at: www.massri.wish.org/7000.
Alisha, who is originally from Cork, Ireland, came to Boston with her family for treatment at Dana-Farber/Boston Children's Cancer and Blood Disorders Center. She has been diagnosed with Stage IV atypical teratoid rhabdoid tumors (AT/RT), a rare childhood cancer consisting of aggressive tumors in the central nervous system, including in Alisha's brain and spine. Having been uprooted from her home in Ireland for treatment, Alisha finds comfort in watching her favorite characters on television and is looking forward to meeting the Disney Princesses while in Florida.
You Can Help Alisha And Others
Wheels For Wishes celebrates Alisha and the 7,000-wish milestone of Make-A-Wish Massachusetts and Rhode Island. We here at Wheels For Wishes have been helping Make-A-Wish grant wishes, and you can take part as well. If you have an unwanted vehicle taking up space in your life, consider donating it to Wheels For Wishes benefiting Make-A-Wish Massachusetts and Rhode Island. When you donate a vehicle, you could help grant wishes for a kid in a town like Springfield, Providence, or Boston!
All you need to do is call 1-855-278-9474 to talk to one of our experienced donation representatives or fill out an online car donation form. Either method will only take a moment of your time, but will help grant a child's wish and bring hope, strength and joy that will last a lifetime.