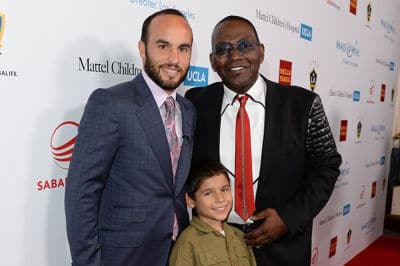 Wishing Well Winter Gala Has Raised Millions For Make-A-Wish LA
Make-A-Wish Greater Los Angeles started the Wishing Well Winter Gala two years ago to celebrate the 30th anniversary of the chapter. This event has raised more than $1 million each year and brings together more than 750 guests to honor leaders in entertainment, business, health care and philanthropy in the Los Angeles area.
This year's event is at the Beverly Wilshire Hotel (9500 Wilshire Blvd.) in Beverly Hills on Wednesday, Dec. 9. Cocktails start at 6 p.m. with dinner at the program beginning at 7 p.m. Past honorees have included including Kobe Bryant, Landon Donovan, Sam Nazarian, Children's Hospital Los Angeles and Mattel Children's Hospital UCLA.
Help Make Wishes Come True
You can take part in this special event that helps Make-A-Wish Greater Los Angeles grant wishes to children with critical illnesses. Individual tickets for the event are $500 each, and can be ordered by filling out the order form on the event's website. You can also become an event sponsor, and there are several options available for you to consider:
Presenting Sponsor: $100,000
Dream Makers: $50,000
Star Catchers: $25,000
Heroes: $10,000
Believers: $5,000
Friends: $1,500
All levels of sponsorships have varying degrees of perks, so check out the sponsorship form to find the level that is right for you. You can also register for the fantastic action ahead of time.
Other Ways To Help Make-A-Wish
Make-A-Wish Greater Los Angeles helps grant wishes for children with critical illnesses all over Los Angeles County, including cities like Pasadena, Long Beach and Santa Clarita. However, if you can't make the event, you can still help to grant wishes for local kids in your community with a general donation. You can also consider making a car donation to Wheels For Wishes benefiting Make-A-Wish Greater Los Angeles.
Wheels For Wishes accepts vehicles in any condition so Make-A-Wish can continue to grant wishes for local kids in your community. Donate a car, truck, SUV, RV, motorcycle, or boat, and help turn your unwanted vehicle into a wish come true. You not only get the satisfaction of helping a child, you also get a tax deduction when you file your 2015 taxes.
To donate a vehicle to Wheels For Wishes, benefiting Make-A-Wish, please call 1-855-278-9474 or fill out our easy vehicle donation form. You won't regret it!