Join Make-A-Wish In Charlotte For A Signature Event
Posted in
Donate Car News
, Friday, December 26, 2014 Last modified: Friday, March 6, 2020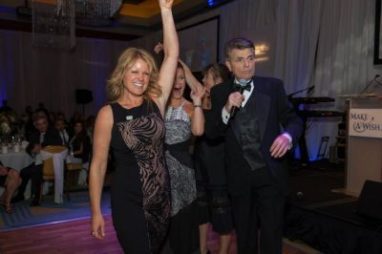 The 2015 Wish Ball is Make-A-Wish Central & Western North Carolina's signature annual event, and you can be a partner in their mission to help children with critical illnesses. The 2015 Wish Ball is on Jan. 30 at The Westin Charlotte (601 S. College St.).
The event starts with registration from 6-7 p.m., dinner from 8-9 p.m. and a live auction and raffle from 8:30-9:30. The evening includes an incredible cocktail hour, an elegant dinner prepared by the Westin master culinary team, music and dancing to the sounds of Flashback the Party Band, and silent and live auctions. Most important, The Wish Ball is an evening of charitable giving: Since the event has started, it has raised more than $2 million towards granting the wishes of children with critical illnesses in our community.
If you want to stay overnight, the Westin Charlotte is offering a special room rate of $129 for Wish Ball guests who book prior to Dec. 31. Parking for the event will also be discounted for Wish Ball guests, at a rate of $12 for valet services and $6 for self-parking.
Tickets, Sponsorships Available For Wish Ball Now
Tickets for the 2015 Wish Ball are now available on the event's website. If you or your company has an auction item to donate, you can learn how here. There's also time to become an event sponsor. Sponsorship levels are:
Title ($50,000)
Presenting ($25,000)
Gold ($12,000)
Silver ($6,000)
Wish Partner ($3,000)
Individual tickets are available for $250 and can be purchased at the event website.
Help Make-A-Wish In Other Ways
Make-A-Wish Central and Western North Carolina hopes to grant 240 wishes this year to kids throughout the state, including in Winston-Salem, Greensboro and Asheville. If you aren't able to attend the 2015 Wish Ball, you can still help Make-A-Wish with a car donation to Wheels For Wishes benefiting Make-A-Wish Central and Western North Carolina.
Wheels For Wishes accepts vehicles in any condition so Make-A-Wish can continue to grant wishes for local kids in your community. Donate a car, truck, SUV, RV, motorcycle, or boat, and help turn your unwanted vehicle into a wish come true.
To donate a vehicle to Wheels For Wishes, benefiting Make-A-Wish, please call 1-855-278-9474 or fill out our easy vehicle donation form. If you make your donation before 11:59 p.m. on Dec. 31st, you can still get a maximum car donation tax deduction when you file your taxes. You won't regret it!

Back to Blog