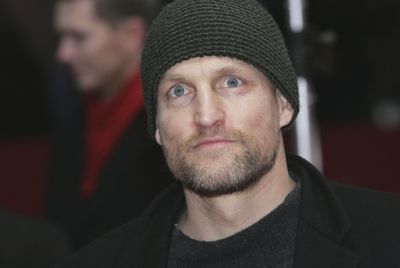 Woody Harrelson Travels Consciously In Eco-Friendly Bus
You may have noticed Woody Harrelson's incredible talent for acting in television shows such as "True Detective" or movies like "Zombieland" and "The Hunger Games." However, Harrelson is not only a talented actor. He's also one of the most environmentally-friendly celebrities! The "diehard environmentalist" is a raw vegan, yoga enthusiast, and self-described "happy hippie from Hawaii," who travels to each of his movie sets in a 1970s bio-diesel bus which runs on vegetable oil. 
About The "Mothership," The Eco-Friendly Bus
Harrelson's bus is named the "Mothership," which is covered in paintings of dolphins, rainbows, and unicorns. The bus consists of everything from cork flooring to solar-paneled lights! The sustainable cork flooring was constructed from cork that is harvested every ten years, which helped to minimize the amount of trees that were used. The interior consists of hemp or organic cotton materials.
The bus was originally used during the set of Harrelson's 2003 documentary, "Go Further." The documentary, created by award-winning documentary filmmaker Ron Mann, followed Harrelson as he traveled California by bus and bike to spread the word about the importance of living an environmentally-friendly lifestyle.
In the documentary, Harrelson and several others travel the Pacific Coast Highway to show the people they encounter that sustainability is always an option. The bus used in the documentary must have left a positive impression on Harrelson because he's still driving it!
The Launch Of Voice Yourself
On top of his already compassionate and sustainable lifestyle, Harrelson has also launched the organization called Voice Yourself. The organization works to educate people on the importance of buying and growing organic vegetables, shopping at businesses that are eco-friendly and avoiding those that are not, and he raises awareness about ways to get involved in the green movement.
The Voice Yourself website also shares fun tips and news for keeping a happy and healthy home. From their advice on interesting uses for overripe bananas to their news about toilet paper contributing to the deconstruction of rainforests in Indonesia, Voice Yourself is certainly leaving a positive impact on those who are eager to make a difference.
You Can Contribute To The Green Movement, Too
While you may not have the resources to travel around town in a bus that runs on vegetable oil, you can still reduce your carbon footprint by commuting smarter. Carpooling, biking, walking, telecommuting, and recycling an unneeded car can all reduce your carbon footprint. Plus, recycling a car can also grant local children's wishes when you recycle your car through the Wheels For Wishes car donation program, benefiting Make-A-Wish.
According to CarbonFund.org, there are a few ways to reduce your carbon footprint when you do need to drive. Accelerate slowly and smoothly, drive the speed limit, maintain a steady speed, and anticipate your stops and starts. Keeping your car tuned up and replacing your air, oil, and fuel filters can also make a difference. You should also keep your tires properly inflated.
If you're deciding between purchasing a new fuel-efficient vehicle or buying a used vehicle, check out our infographic which compares buying a new 2015 Toyota Camry versus buying a used 2008 Toyota Camry. When you're ready to dispose of your current vehicle, please do so through Wheels For Wishes. Just call 1-855-278-9474 or fill out our online car donation form.