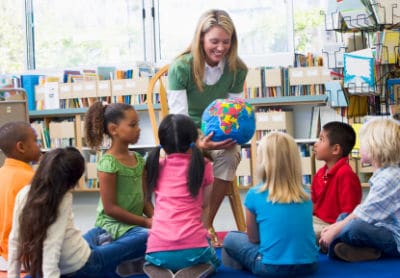 Celebrate Teacher Appreciation Day With These 5 Green Gift Ideas
While it's important to recognize the great work teachers do on a daily basis, May 7 isn't just another day to thank your teacher – it's THE day. National Teacher Appreciation Day was created to help honor  teachers for all of the work they do. With the end of school right around the corner, Teacher Appreciation Day is the perfect time to give your child's teacher an early end-of-year gift to coincide with this day.
Here are five ways that you can give a teacher a lovely, heartfelt gift. Some of them can even be environmentally-friendly, too:
Environmentally-friendly cups and mugs. In the last several years, people have been replacing their old, reusable plastic cups and mugs. Many newer plastic cups and mugs are made without BPA, an industrial chemical that has been used to make some plastics and resins since the 1960s. Recently, however, the National Toxicology Program at the Department of Health and Human Services says it has "some concern" about the possible health effects of BPA. That's led to more people seeking out metal water bottles or plastic mugs and water bottles that are clearly labeled "BPA Free."

Easy to care for plants and flowers. In addition to being good for the environment, plants and flowers help brighten up your classroom. Look for plants that can go several days without being watered, taking into account weekends and long school vacations.

Green cleaning products. Hand sanitizers are great products for teachers who try to stay as healthy as possible during the year. Especially when the dreaded cold and flu season rolls around, having a sanitizer nearby that can kill germs without smelling offensive or hurting your hands is key. Also look for wipes to clean desks, keyboards and phones – or any other surface that a teacher uses on a regular basis.

Stylish lunch bags. Having a reusable lunch bag doesn't mean it has to be drab and boring. Reusable lunch bags come in all shapes, sizes and materials. From insulated bags to keep food hot or cold, to bags made of neoprene that are easily washable, reusable bags are better than toting the traditional brown paper bag. Plus, there is no risk of ripping or having your lunch fall out of them. You can also look for reusable sandwich bags or plastic sandwich containers that can replace the need for traditional plastic sandwich bags.

Tote bags. Have you ever seen a teacher walk into school empty-handed? Not likely. With teachers regularly bringing work home with them, a sturdy tote bag is the perfect way to make sure their important papers are going to and from in style. Many totes today are made with a built-in pouch so it can fold up into itself to save space. Totes can also be personalized depending on where you buy it. Craft stores may also sell totes that the kids can personalize for their teacher – a nice touch!
Another way to think green is by recycling your car and donating to Wheels For Wishes benefiting Make-A-Wish. Wheels For Wishes will take your car, truck, SUV, RV, motorcycle or boat, and your donation is 100 percent tax deductible. Not only are you recycling your unwanted vehicle, but you are helping to grant a wish for a local child.
If you have a vehicle to donate, please call us at 1-855-278-9474 or fill out our easy online vehicle donation form. Donate a car and grant a wish for a local child!