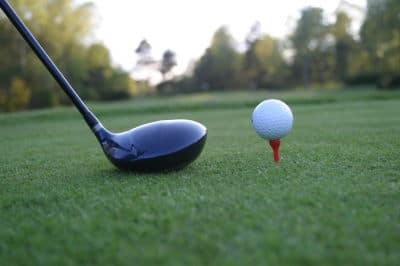 Make-A-Wish Golf Outings Let You Help Grant Wishes
After many months of winter, digging out from historic snowfalls, and bundling up just to go get the mail, spring is a welcome sight. One of the great rites of spring is dusting off your golf clubs and taking in 18 holes on a beautiful afternoon. This April and May, you can do just that while helping Make-A-Wish at one of five different golf outings around the country. Each event is a fundraiser that helps a local Make-A-Wish chapter raise money to grant wishes for children with a critical illness.
Wish Upon A Par, April 27
Make-A-Wish North Texas presents the 5th annual Wish Upon A Par golf tournament at River Crest Country Club in Ft. Worth (1501 Western Ave.). Last year's event raised more than $145,000 – which was enough to fund more than 15 wishes. For more information about signing up for this year's event or becoming a sponsor, e-mail Lauren Grady at lgrady@ntx.wish.org.
Jerry Gordon Memorial Golf Tournament, May 1
The third annual Jerry Gordon Memorial Golf Tournament helps Make-A-Wish Greater Pennsylvania and West Virginia grant wishes and honors Jerry Gordon, who was instrumental in the success and growth of the Truck Convoy For Wishes. The event will include cash prizes and longest and straight drive contest. Dinner and awards ceremony will follow tournament.
Cost is $85 per person and $340 for a foursome. Deadline to register is April 20, 2015. Each golfer will receive a shirt and goodie bag. There are also sponsorships available. For more information or to register, please e-mail Sherri Keller, or call her at 717-818-9411.
Make-A-Wish Polen Capital 2nd Annual Golf Tournament, May 1
Boca Raton Resort & Club (501 E. Camino Real, Boca Raton) is the host for this Make-A-Wish Southern Florida fundraiser. The event starts with a 7 a.m. continental breakfast at Mulligan's with an 8 a.m. shotgun start for the golf. Following the golf there's a lunch and awards celebration. The cost to golf is $2,000 for a foursome. There are also many sponsorship opportunities still available. To RSVP, e-mail Patty Escobar or call 954-967-9474.
Make-A-Wish Baltimore Golf Classic, May 11
Golf at the Hayfields Country Club in the 3rd annual Make-A-Wish Golf Classic in the Baltimore area, while helping to raise money to grant wishes. The event kicks off with a shotgun start at 9 a.m., and there are several sponsorship opportunities for the event. For more information, contact Judi DiGioia at 443-675-6128.
24th Annual St. Louis Golf Classic, May 11
An anticipated 288 golfers will be taking part in the St. Louis Golf Classic at Norwood Hills Country Club. Among those in attendance will be volunteers, Wish Kids and their families. The event starts with registration and the opening of the driving range at 10:30 a.m. Lunch is at 11 a.m. with a shotgun start at noon. At 5 p.m., there is dinner, cocktails, a silent auction and awards presentation. Foursomes for the event cost $2,000 each, and that includes lunch, dinner and a gift bag for each golfer. The goal for this year's event is to raise $262,000 which will grant 52 wishes for children with critical illnesses. Go to the event website to register and learn more about the event.
Help Make-A-Wish No Matter Where You Live
Whether you are a golfer or not, or don't live close enough to take part in one of these events, you can help Make-A-Wish no matter where you live. You can help bring joy to children with critical illnesses and all you have to do is to make a car donation to Wheels For Wishes benefiting Make-A-Wish. We support many local chapters of Make-A-Wish with the proceeds from car donations. When you donate a car, truck, boat, RV, motorcycle or other vehicle, you can support your local chapter of Make-A-Wish, helping them to grant more wishes for children in your community who could use more hope, strength and joy during a difficult time in their lives.
To donate a car, simply give us a call at 1-855-278-9474 or use our online car donation form. Your car donation will make a positive difference for a child in your community!