Three Walks For Wishes Help North Carolina Kids
Posted in
Donate Car News
, Wednesday, October 1, 2014 Last modified: Friday, March 6, 2020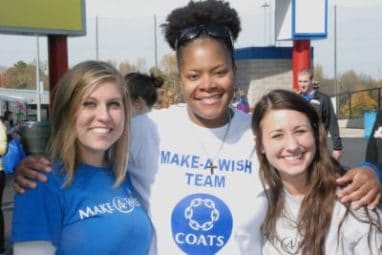 Going for a walk regularly is great exercise, but this November, going for a walk can help grant wishes for children at the same time! There are three opportunities to take part in a Walk For Wishes event to help raise money for Make-A-Wish Central and Western North Carolina.
The Walk For Wishes events are family-friendly, community walks to celebrate hope, strength and joy while raising funds to grant the wishes of local children with critical illnesses. All three of the walks give you the opportunity to help grant wishes and help some of central and western North Carolina's bravest children.
Asheville Walk For Wishes, Nov. 1
The Asheville Walk For Wishes is at Pack Square Park. Registration is at 9 a.m. with the walk kicking off at 10. There is no registration fee for anyone who wants to take part in the event and you can sign up for the walk on the event's website, where you can also make a general donation or sponsor a participant. The earlier you register, the more money you can raise to help grant wishes.
Charlotte Walk For Wishes, Nov. 8
Romare Bearden Park is the site for the Charlotte Walk For Wishes. Same-day registration is at 8 a.m. with the walk starting at 9. Like the Asheville walk, there is no registration fee. You can register online as an individual or with a team, set up a personal web page and help reach fundraising goals to help Make-A-Wish Central and Western North Carolina grant wishes.
Winston-Salem Walk For Wishes, Nov. 15
The final Central and Western North Carolina Walk For Wishes is at Tanglewood Park in Winston-Salem. Day-of registration starts at 4:30 p.m., with the walk going from 6-8 p.m. Registration fees are $20 for adults and $10 for kids 6-12 years old. Register online before the event and get your fundraising started early!
Sponsorship Opportunities Available
There are several sponsorship opportunities available, whether you want to sponsor one, two or all three Walks For Wishes. Chapter Sponsorship ($24,000) is a presenting sponsor of all three walks, Regional Sponsorship ($18,000) presents two walks, and Walk Site Sponsorship ($12,000) is for one of the walks. General sponsorships include Gold ($6,000), Silver ($3,000), Bronze ($1,500) and Friend ($500).
Help Make-A-Wish In Other Ways
Make-A-Wish Central and Western North Carolina hopes to grant 240 wishes this year, and if you can't make one of the walks a great way to help is to make a car donation to Wheels For Wishes benefiting Make-A-Wish Central and Western North Carolina.
Wheels For Wishes accepts vehicles in any condition so Make-A-Wish can continue to grant wishes for local kids in your community. Donate a car, truck, SUV, RV, motorcycle, or boat, and help turn your unwanted vehicle into a wish come true.
To donate a vehicle to Wheels For Wishes, benefiting Make-A-Wish, please call 1-855-278-9474 or fill out our easy vehicle donation form. You won't regret it!

Back to Blog