How To Start Recycling
Getting started with recycling is easy! Trying to get out of your old waste habits, not so much.
Before you start up your new recycling habits there are a few simple steps that can help you decide what can be recycled, how it can be recycled, and where to recycle it.
Step 1: Start With The Basics
What You CAN Recycle?
Any plastic containers/bottles.
Paper items such as:

Cereal boxes, and other food boxes.
Your mail, newspapers, magazines, phonebooks, etc.
Printer paper and cardboard boxes.

Glass items like jars, food containers and bottles.
Metals like aluminum cans, tin, steel cans, and more metals lying around the house.
What You CAN'T Recycle:
Plastic grocery bags.
Plastic food wrapping.
Styrofoam containers, cups and egg cartons.
Anything that has food or biological waste.
Broken glass.
Plastic silverware and plastic straws. (Check out this plastic straw pollution page)
Medical waste.
Household items.
Dirty diapers.
Garage waste.
Tangling items like rope, hoses, wires, chains, and leashes.
Step 2: Get Your Bins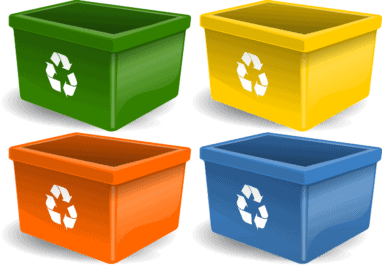 Depending on where you live you may have to sort through your recyclables differently. However, for most waste management organizations, all you have to do is have your recyclables all in one place out by the curb. You can get your recyclables out on your curb by using recycling bins.
The basic rule with recycling bins is to have a recycling bin wherever you have a trash bin. That way you can separate your trash from your recycling right where you are throwing things away!
Recycling In Your Home:
Bathroom: Boxes from personal care items and paper waste can be recycled here.
Kitchen: Keep your bin in the place you collect the most waste!
Office: Paper waste, cardboard containers, and other office supplies usually get thrown away here.
Garage: Plenty of plastic containers, metal containers, and other garage materials typically build up in the garage.
Recycling When You're Not Home:
Your Car: Keep a small recycling bin or bag in your car to catch all of your leftover containers from eating and drinking on the go.
At Your Work: Paper, soda cans, plastic containers, cardboard containers, and office supplies are typically disposed of at the office. If your workplace doesn't already have a recycling program you can collect your own recycling next to your desk.
Step 3: Find Where You Can Recycle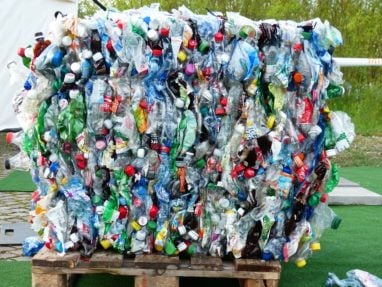 Most households already have a recycling program set in place locally so you won't have to worry about where you need to recycle. If you are not aware of any recycling program available to you, give your local city waste management a call to see what you can do to get started.
If curbside services are not available in your area, there should at least be a public area for recyclables to be dumped for free somewhere in your city. Your workplace might also allow you to use them as your place to recycle.
Here's a great place to see where you can locate a place to recycle:
https://www.recyclenow.com/local-recycling
Step 4: Recycle Less Common Items
Before you throw away certain items check out this guide to see where you can dispose of less common recyclables. Things you can recycle individually include:
Building materials like asbestos, bricks, doors, and scrap wood.
Electronics like batteries, appliances, entertainment devices, cell phones, computers, etc.
Most food waste can be composted locally through your local waste management organization.
Liquids and chemicals.
Grocery Bags: You typically can't recycle grocery bags but there are plenty of stores that will accepted your plastic grocery bags for reuse. You can even reuse them yourself!
Clothing and more.
Step 5: Reuse What You Can
Reduce, reuse, recycle. The last step in getting started is to use less and reuse what you can. Most containers and recyclable goods can be reused for another purpose before you throw them out. Plastic straws are a huge problem in landfills today and reusing them around the house can make a big impact on your plastic footprint.
Buying recycled goods is another way you can contribute to recycling. Plenty of products are made with partially or fully recycled goods like trash bags, plastic bottles and containers, and even paper!
Step 6: Share Your Experience
Now that you are a recycling professional, spread the word on how easy it was to get started! Still undecided on whether you should start recycling? Check out these 20 reasons you should start recycling. Check out some other ways to go green here!
Step 7: Recycle Your Vehicle To Benefit Your Local Make-A-Wish
If you're looking to get rid of a vehicle in an environmentally friendly way and get something out of it in return try Wheels For Wishes. Wheels For Wishes is an environmentally friendly vehicle donation and recycling program that helps fund the wish experiences of your local Make-A-Wish chapter.
Since 2010 Wheels For Wishes has donated over $109 Million to help fund wishes for over 13,218 kids. We believe that every child deserves a fulfilling childhood and your car donations make that happen.
Here's what you get when you donate a car to Wheels For Wishes:
Free towing of almost any type of vehicle, running or not.
A maximum tax deduction for your vehicle donation. (Wheels For Wishes is a 501 (c)(3) organization)
You won't have to worry about selling your vehicle.
We take care of all the details for you. This includes handling the DMV paperwork, title transfer and any questions you might have about the vehicle donation/recycling process.
After your vehicle is picked up, we will send you a 100% tax deductible receipt that you can use with your 1098-c when filing your taxes.
Click here to fill out an easy online donation form or give us a call at 1-855-278-9474
Sources:
https://homeguides.sfgate.com/ten-steps-start-recycling-79791.html
https://www.instructables.com/id/How-to-Start-a-Recycling-Program-in-Your-Home/
https://www.enviroforensics.com/blog/start-recycling-in-5-easy-steps/
https://www.recyclenow.com/recycling-knowledge/getting-started/recycling-at-home
http://www.ecolife.com/recycling/tips-basics/home-recycling.html