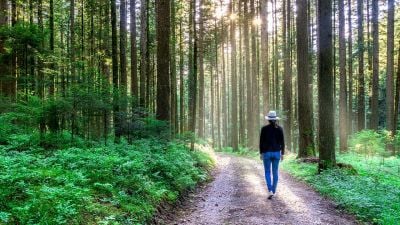 How To Get Your Steps In
If you are having a hard time trying to find the best way to get your steps in, there is a fun and charitable way to get your steps in. Make-A-Wish Sand Diego has three events coming up to get you up and moving: Walk For Wishes 4/22, Amazing Race For Children's Wishes 5/7, and the Trailblaze Challenge 5/19-5/21.
Walk For Wishes
This event will start at 8 a.m. on April 22 at the Embarcadero Marina Park, South San Diego Harbor. They have a goal set to raise $320,000, which is roughly 53 wishes. If you would love to get out and walk for charity this is a fantastic opportunity to do so. There is no fee to walk. However, every team and individuals are encouraged to fundraise to help grant more wishes for local children. If you would like to participate in the event you can visit Make-A-Wish San Diego's website and donate today.
Amazing Race For Children's Wishes
Have you ever watched the show the Amazing Race and wondered what it was like to participate? Well here is your chance! The 9th annual Amazing Race For Children's wishes will be held at the Coronado Yacht Club. This event is hosted by the Coronado Yacht Club, Navy Yacht Club, and the Coronado Cays Yacht Club. This all-day event begins with the bike event at 10 a.m., followed by the silent auction and raffles opening at noon, then there is a lunch buffet at 1:30. Last but not least the Program begins at 2:15 which will include: live music, wish kid interviews, silent auction, raffle, live auction and race winners are announced. Don't miss out on all the fun!
Trailblaze Challenge
If the other two activities don't sound challenging enough then this is the perfect event for you. The Trailblaze Challenge will challenge you physically and mentally as you hike 26 miles along the terrain of the Pacific Crest Trail. This three-day event May 19-21 will give you a chance to be out in the wilderness with friends and family. There will be a pasta party on Friday night giving you a chance to carb load before the big day. They will have transportation to and from the trail. You can find more information on this day on the Make-A-Wish San Diego's website.
Not Able To Participate?
If you aren't able to make these events there is still a way you can make a lasting impact on a child's life. Do you have a vehicle such as an ATV, RV, car, boat, truck or even a trailer that you no longer use? You can donate it to Wheels For Wishes, benefiting Make-A-Wish San Diego. Don't worry about a long process; our online car donation form takes 2 minutes to fill out or you can simply call us at 1-855-278-9474 and we have donation representatives standing by to answer any questions you might have. Once you have submitted your donation you will receive a call from us within 24 hours of the next business day to schedule your vehicle pick-up. Lastly, when your vehicle is picked up you will receive a tax deductible receipt in the mail. Donate your unused vehicle today and help make dreams come true for a local child.