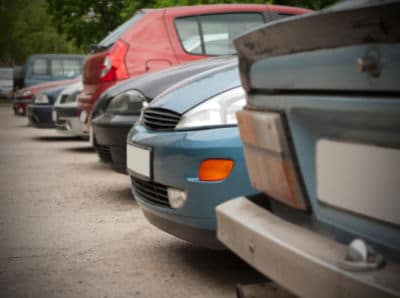 How To Get Rid Of A Car And Donate It To Charity
If this year's spring cleaning involves getting rid of an unwanted car, then you have come to the right place. Why go through the hassle of selling or trading in a vehicle when you can donate it to Wheels For Wishes, benefiting Make-A-Wish? We take care of all the work for you, and donating a car benefits for both you and a local child, including a great tax deduction for you at tax time.
Get Rid Of Your Used Car
Whether your car is a newer model or an older one, we will gladly accept your car, truck, SUV, RV, boat or motorcycle, and we will help to turn it into a wish for a local child. Whether your car is in great condition or perhaps it doesn't run, we will pick it up or tow it away at no charge. Proceeds earned from the sale of the recycled or auctioned vehicle will benefit your local Make-A-Wish.
Getting rid of your vehicle is much easier than you may think. Donating it allows you to give your car to a great cause, and it also saves you time and money. Why deal with the stress of paying for car repairs, placing ads in the paper, driving around to show the car to potential buyers, or haggling over a sales price? Wheels For Wishes takes care of all of those details for you, and you don't have to worry about a thing.
It's Easy To Donate A Vehicle
Donating a vehicle is as easy as setting a bag of unwanted clothes outside your door for a charity to pick up. Wheels For Wishes will schedule your free vehicle pick-up and you don't even have to be home when they arrive. Just make sure the keys are left in the car, and it will be picked up or towed away. Everything else will be handled during the time that your donation is made. When you speak to one of our vehicle donation representatives, they will be able to determine if you need any paperwork in order to donate your vehicle.
To donate your vehicle, first call us at 1-855-278-9474 or fill out our easy online vehicle donation form. If you make your donation online, you will be contacted within 24 hours of the next business day to schedule your free vehicle pick up. After your donation is made, we will mail out your tax deductible receipt. This can be saved and deducted from your taxes at the end of the year. Any donations we receive online before 12AM on January 1st count for that same tax year.
We Answer All Of Your Questions
If this is your first time donating a vehicle, it makes sense that you would have questions you'd like answered before diving in and making your donation. We are here to answer any questions you may have, and our vehicle donation specialists are happy to take your call at any time, day or night.
If you're looking for a quick reference on how to donate a vehicle to charity, check out our 2013 Guide To Donating Your Car To Charity or see if you can find your question in our list of Most Frequently Asked Questions About Car Donation. If you don't see the answer you're looking for, just ask! We are here to help.
Benefits Of Car Donation
The amount of benefits from donating a car to charity are endless. Not only do you get rid of a vehicle in the easiest way, but you are contributing to the green movement since you are recycling your car and allowing it to be reused.
Many times when you make a donation, you are not sure where the proceeds will end up or who exactly you will be helping. When you donate a vehicle to Wheels For Wishes, benefiting Make-A-Wish, you can be sure that your donation will benefit a local child in your community. Wheels For Wishes works with 43 Make-A-Wish chapters across the country, so your donation will benefit your local Make-A-Wish chapter. The earned proceeds will stay in your community and could end up helping a child you already know somehow!
De-clutter your garage, simplify your life, and make your generous car donation to Wheels For Wishes. It's easy to get rid of a car!