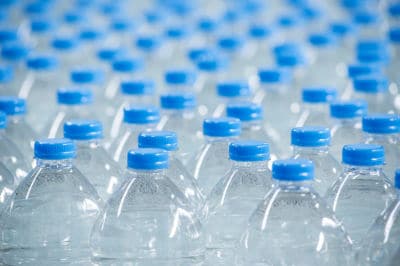 Recycled Bottles For Shoes, Clothing A Big Fashion Trend
Earlier this year, Adidas launched a prototype of a running shoe called the Adidas x Parley. What makes the announcement both unique and exciting is the upper part of shoe is made completely from yarn and filament produced from plastic salvaged from the ocean, as well as fishing nets.
"This way there is no reason why materials with similar characteristics to those that we use every day with conventional production processes cannot be simply replaced by ocean plastic materials," British designer Alexander Taylor told the website Dezeen. "It is really much more a case of working with specialist 'green' chemists and companies such as Bionic textile to build new materials by re-constituting and re-engineering the nets and plastics."
Adidas said that they are looking into other sustainable ways of manufacturing this collection. The company said they plan to launch the concept design into production next year.
The Importance Of Clean Oceans
The shoe was created in connection with the organization Parley for the Oceans, a group that works to address the major threat towards our oceans. The group noted that recent studies show that at least 40 million pounds of plastic has accumulated in the North Pacific Ocean alone.
A 2012 report indicates that between 57,000 and 135,000 whales are entangled by plastic marine debris every year in addition to the birds, turtles, fish and other species affected by plastic marine debris. Also, new studies show that ingested plastic damages the internal organs of fish. This raises the question about the safety of our seafood.
Other Brands Part Of The Trend
Patagonia, the well-known outerwear company, was well ahead of the curve in using recyclable plastic bottles for their clothing. In 1993, the company began using plastic soda bottles to turn trash into fleece. Today, they've expanded that into using soda bottles, unusable manufacturing waste and worn-out garments – including their own – into polyester fibers to produce clothing.
"Using recycled polyester lessens our dependence on petroleum as a source of raw materials," the company claims on its website. It curbs discards, thereby prolonging landfill life and reducing toxic emissions from incinerators. It helps to promote new recycling streams for polyester clothing that is no longer wearable. And it causes less air, water and soil contamination compared to using non-recycled polyester."
For the United States' 2015 Women's World Cup uniforms, the Nike-made socks, shorts and jerseys were all made from recycled plastic bottles. To do so, the plastic bottles are cleaned and shredded into pieces, which are then melted to become strands of polyester. Since 2010, Nike has diverted more than 2 billion plastic bottles from landfills into recycled polyester. Nike uses an average of 14 recycled plastic bottles to create its high performance basketball jerseys and 18 for soccer jerseys.
Dirtball, a clothing company based in North Carolina, makes all its clothing – everything from shirts to blue jeans to baseball hats – out of recycled plastic bottles. For every 100,000 t-shirts the company makes, according to their website, approximately 916,000 gallons of fresh water is saved.
The Payoff Of Recycling
Brands like these are great examples for why recycling pays off. According to our infographic, only 27 percent of recyclable water bottles are actually recycled. What these brands show is that the innovation using recycled plastic bottles to make clothing could potentially be accelerated and adopted by more companies if more people would recycle.
Another major recycling industry is vehicle recycling, which has become one of the biggest industries in the United States. Here are some key facts about car recycling provided by the Automotive Recyclers Association and Environmental Protection Agency:
The total estimated revenue of automobile recycling is estimated to be about $22 billion.
Recycled vehicles provide enough steel to produce almost 13 million new vehicles every year and can save an estimated 85 million barrels of oil each year.
Recycled parts can save retail customers about 50 percent when purchasing used parts over new parts.
The automotive industry provides jobs for about 103,108 people throughout the country at more than 8,267 small and large businesses – the total annual payroll for auto-recycling is estimated at $3.3 billion.
Automotive recycling saves you money every day, even if you don't know it! By purchasing inoperative vehicles from insurance companies, automotive recyclers help to decrease insurance rates.
More than 25 million tons of material are recycled from cars each year, including 90 percent of all of the automotive aluminum on a recycled car. Auto recyclers supply more than one-third of iron and steel scrap to the scrap processing industry in the United States – and using recycled steel and iron reduces air and water pollution by more than half during the manufacturing process.
Recycle Your Vehicle To Help Make-A-Wish Grant Wishes
Car recycling can also help children with critical illnesses in your community. When your vehicle is run-down and you are looking to make a new purchase, you can make an impact in your community by donating your car to Wheels For Wishes. Wheels For Wishes benefits Make-A-Wish and helps to make wishes come true.
Your car donation is tax deductible and will have a tremendous impact in your city, whether you live in Roanoke, San Diego, Portland, or anywhere else in the United States. Just call 1-855-278-9474 or use the simple donation form online. You will be contacted within 24 hours of the first business day to plan your free pick-up or tow for your earliest convenience.
Vehicle recycling has a big impact on your life and your recycled vehicle can have an even bigger affect in the life of a child. Donate today to make a difference now!