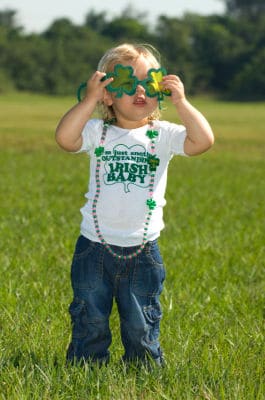 Happy St. Patricks Day In America
Everyone is Irish on St. Patrick's Day, which is why it is one of the most celebrated holidays in the United States! In Chicago, they dye their river green, parades are held in Boston and Minneapolis, and green beer is enjoyed in every major city throughout the country. Originally, the holiday was held in honor of Saint Patrick, a Christian Bishop who helped to spread Christianity in Ireland. Feasts were held in his honor in Ireland, and as more of the Irish settled outside Ireland, the feast spread too. Now, more than eleven countries celebrate St. Patrick's Day in some way. The International Space Station has even celebrated St. Patrick's Day 220 miles above the Earth!
St. Patrick's Day has grown from its religious foundation to become a celebration of Ireland and the Irish culture. Green decorations are hung from walls in offices, homes, schools and local pubs in celebration of the March 17 holiday. A great break from the winter blues, St. Patrick's Day is the perfect opportunity to dress in your brightest green outfit and enjoy life.
Live Green And Make A Difference In Your Community
St. Patrick's Day is also one of the most popular days for beer connoisseurs to enjoy their favorite beverages with a green hue. Something many of these advanced beer drinkers may not know is that living eco-friendly can actually make beer taste better. Clean water and other natural ingredients like wheat and barley are what make brewing beer possible. The more polluted the environment, the less beer can be produced. Taking important green-friendly steps in your life can help ensure there is plenty of beer in your fridge this St. Patrick's Day.
One of the easiest ways to live green-friendly as a beer lover is by purchasing local microbrewery beers. Not only are local beers fresher, but they are also good for the environment since they don't have to be shipped cross-county only to end up on a coaster in your living room. Supporting local breweries isn't just good for the environment, it is also good for the economy. When you spend money supporting local businesses, that money benefits the whole community and can be reinvested in your town's infrastructure and other local businesses. Buying local keeps your economy moving in the right direction!
Another way to make your beer consumption green is by recycling. You should always recycle your bottles and cans, and even the cardboard from some packages can be recycled and re-used to package more beer. Major breweries like MillerCoors and Anheuser-Busch have already started recycling packaging and have saved tens-of-thousands of trees in the process. On a much smaller scale, each one of us can have a similar impact on our environment.
If the health of you and your St. Patrick's Day party guests is important to you, maybe now is a great time to purchase organic beer! Pesticides used to cultivate the crops that make some beers are bad for you and bad for the environment. Although some chemicals in your beer might be unavoidable – or are worth the risk because you love the taste of your beer so much – even cutting back on the chemicals in your beer can be good for you. Check the label and find out what you are really putting into your body when you have a drink. Less is more when it comes to your beer.
Stay Green By Donating A Car And Helping Children
The less chemicals we consume or pass through the exhaust of our vehicle the better off we will all be. While making an effort to stay green this St. Patrick's Day, take a look in your driveway and ask yourself if there is something more you could be doing. If you are ready to trade that gas guzzling vehicle for a more eco-friendly model, consider donating your car to Wheels For Wishes, which benefits Make-A-Wish and can help children in your community with critical illnesses receive a wish!
If you aren't sure how to donate a car, don't let that stop you. Experienced car donation representatives are here to take your call now. Making a donation is as easy as calling 1-855-278-9474 or filling out a donation form online. You will be contacted within one business day to schedule your free pick up and your donation is 100 percent tax deductible. Now is the best time to make a change and help the children in your community. Don't wait, donate your car today.