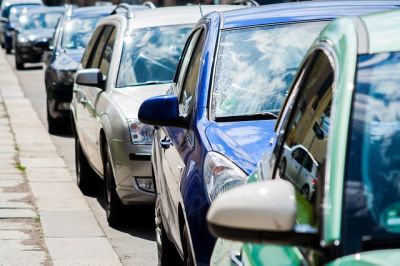 9 Ways To Help The Earth With Your Car
For many environmentalists, cars are a necessary evil. Most eco-minded people opt for public transportation or alternative transport like bikes or walking whenever possible. But how do you lessen your impact when you absolutely have to drive? 
In honor of Earth Day, here are a few ways you can reduce your carbon footprint from behind the wheel!
1. Combine Trips When Possible
If you need to get groceries, pick up prescriptions, mail a package and go to the bank over the course of a week, set aside one afternoon to get all your errands checked off at the same time. It might take a larger chunk out of your schedule, but combining trips certainly helps use less fuel over time.
2. Avoid Idling Whenever Possible
It's easy to forget how much idling your car contributes to emissions. Idling can burn anywhere from .16 gallons an hour for small cars to .84 gallons an hour for medium-weight trucks. That really adds up! Many of us start up our cars and then remember we need to enter an address into the map, send a quick text or make a phone call. It's perfectly understandable to do this in the winter if your car needs to warm up. Other times of the year, wait to start your car until you're absolutely ready to start driving.
3. Perform Routine Maintenance
It might seem wasteful to get new tires every few years or get an oil change every 3,000 miles. However, getting routine maintenance and repairs done on a regular schedule helps your car run more efficiently. Routine maintenance also extends your car's life much longer, reducing the number of new cars that need to be manufactured every year.
4. Carpool With Friends
This one isn't always easy, but it makes a difference even if you only have a chance to carpool once or twice a year. If your friends are going to a concert together or family is all getting together for a vacation, try to carpool. If you know someone who lives and works close to you, suggest carpooling on a weekly basis.
5. Remove Excess Weight From Car
Did you know your fuel economy drops 2 percent for every 100 pounds of excess weight in the car? The fastest way to boost your fuel efficiency is to clean out your trunk or back seat.
6. Offset Your Carbon Emissions On Long Trips
Taking a long road trip? There's not a whole lot you can do to reduce your impact, since you'll likely have the car weighed down with items. One thing you can do, however, is to buy carbon offsets to help reduce greenhouse gasses. Simply put, a carbon offset is a way to counteract or balance your own greenhouse emissions. There are countless organizations that offer carbon offsets, so it's very important to vet them for authenticity. Check NRDC.org for tips.
7. Change Driving Habits
Even more than idling, aggressive driving wastes a lot of fuel. If you know this describes your driving style, you can greatly reduce your emissions over time by accelerating and stopping more gradually as well as lowing your normal cruising speed. According to eartheasy.com, aggressive driving increases fuel usage by up to 40 percent. Cruising at 55 mph instead of 65 mph can improve mileage by up to 15 percent.
8. Upgrade To A Newer Car
Each new model of a car tends to have slightly better fuel economy than its predecessor. Taking all vehicle types into account, the average fuel economy of new vehicles is at an all-time high of 24.8 mpg according to a Nov. 2016 report from the EPA. There are plenty of other reasons to consider upgrading, but fuel economy may top your list if you drive an older model vehicle.
9. Make Sure Your Old Car Is Recycled Or Reused
When you do upgrade to a newer car, or maybe even a hybrid, there are several ways to ensure your old car gets put to good use. For example, when you donate your car, it will be auctioned to a new owner or recycled (depending on its condition). Taking your old car to a scrap dealer or recycler on your own can be expensive and time consuming, which makes car donation a much easier option.
When you choose Wheels For Wishes for your car donation, you'll receive free towing from just about anywhere. Car donations to Wheels For Wishes are also completely tax deductible because we're a 501(c)(3) nonprofit. Put your old car to good use by calling 1-855-278-9474 or donating online!