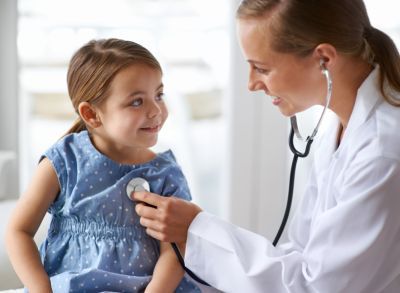 5 Reasons To Celebrate Child Health Day
Child Health Day has been around for quite some time. The federal holiday was introduced to Congress in 1928 and was celebrated for the first time in May 1929. Now it falls on the first Monday of each October, which is Oct. 5 this year.
While you won't get a day off work for it, Child Health Day is important for a number of reasons. The point of the day is to get all organizations and agencies invested in children's health to raise awareness about the importance of children's welfare in our country. In addition to physical healthiness, children's well-being also depends on their economic well-being, education, emotional wellness and family/community interaction. All of these factors together play a role in children's wellness.
Why Celebrate Child Health Day?
Children's wellness depends on so many factors, making it possible for everyone to make a positive impact today whether you have children of your own or not. Children's organizations are encouraged to help raise awareness for kids' well-being on Child Health Day, but there's plenty that parents, neighbors, teachers and communities can do every day to make life safer and healthier for kids.
Here are five ways to get involved today and make a positive difference: 
Learn about child well-being in your state from the Annie E. Casey Foundation's yearly publication. Knowing the status of education, community and healthcare in your state is interesting, but it can also motivate you to get involved when you see where your state can improve.
Volunteer with a local youth center. Many communities have youth centers that do incredible work to enrich kids' lives. Whether it's through your faith group or a local activity center, you can likely find a cause to get involved with. Positive role models at youth centers can be a great influence on kids.
Help your kids make healthy choices. Choices made for your children's health can affect their disease risk later in life. Eating lots of fruits and veggies and getting plenty of exercise are important for kids' health now and in the future. Check out our blog on Fruit & Veggies - More Matters Month for more tips.
Clean up the environment. Whether it's a local park, lake or walking path, making your community cleaner benefits everyone in it, especially children. Cleaning up trash makes the environment safer for children who play there, but it also sets a great example for kids.
Support a children's charity such as Make-A-Wish. Child Health Day is a great opportunity to support organizations that promote children's health and well-being. A great way to support your local Make-A-Wish is through a car donation to Wheels For Wishes.
Donate Your Vehicle To Benefit Make-A-Wish
If you do have a vehicle you'd like to donate, Wheels For Wishes is here to help. We can accept nearly all makes and models, regardless of age or condition. Vehicles are either auctioned or recycled, and the proceeds from their sale go to your local chapter of Make-A-Wish.
In return for your donation, you receive free pick-up or towing from nearly anywhere as well as a great tax deduction. We even handle all the paperwork for you, and are available to help with any questions you have along the way.
To donate your vehicle, please call 1-855-278-9474 or fill out our online donation form. Every donation will help Make-A-Wish bring more hope, strength and joy to local children. In honor of Child Health Day, what could be better than that?