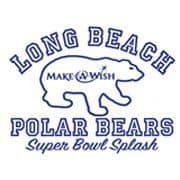 The Long Beach Polar Bears Are At It Again
Every year since 2000 people can't wait to make a splash on Super Bowl Sunday. Before hundreds of people are on their way to Super Bowl parties, they are jumping in the ocean to help grant wishes for children. These daring people raise money for Make-A-Wish Metro New York and Western New York. This event took one child's wish of playing on the beach in Puerto Rico and made it so much more. 
The Bears Behind The Splash
Patti and Mike Bradley lost their 4 year old son Paulie due to a life threating illness. On Super Bowl   Sunday in 1998 Kevin McCarthy and Pete Meyers thought it would be fun to jump into the Atlantic Ocean before the big game. Then in 1999 Mike Bradley and P.J. Bradley joined Kevin and Pete for their now-annual swim before the Super Bowl.
Patti and Mike had been looking for a fitting memorial for Paulie to keep his spirit alive. P.J. brought up the idea that the annual Super Bowl swim would be made into a fundraiser for Make-A-Wish.  So on Super Bowl Sunday 2000, surrounded by family and friends they had their first splash for Make-A-Wish. They raised enough money that first year to grant one wish. Every year since then more and more people show up and they are able to grant more wishes than they could have ever imagined. What started as one fun jump into the Atlantic has turned into so much more.
Details
The Long Beach Polar Bears Super Bowl Splash will start Feb. 5 at 12:30 p.m.  with the swim starting at 1:30 p.m. The event will take place about a half a mile from the Long Island Rail Station. This is one of the busiest traffic days of the year in Long Beach, so that makes parking very difficult. They suggest you walk, or there will be free shuttle buses provided. You can create your team and or join a team online.
It's Too Cold
If running into the cold ocean water doesn't sound too appealing or if you can't make the event, we have another great option for you. You can donate your unused car, boat, truck or ATV to Wheels For Wishes benefiting Make-A-Wish Metro New York. Our donation process is fast and easy all you have to do is fill out our online donation form or call us at 1-855-278-9474. We have customer service representatives standing by to answer any question you might have.
Make a splash and donate today!