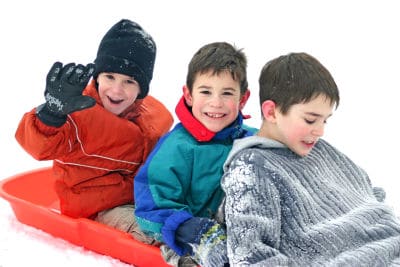 Get The Most Out Of The Shortest Day Of The Year
Today is the shortest day of the year, otherwise known as the Winter Solstice. Shorter days may make it harder to get everything crossed off your to-do list, but there are plenty of fun ways you can maximize your time today! 
With today being a Wednesday, chances are it will be dark by the time you get off work and the kids get home from school. However, it's also a special day because it's the first day of winter. Even if you don't love winter you can have a fun start to the new season with your family!
Have Some Indoor Fun
If the thought of winter makes you groan, go somewhere warm and tropical feeling such as an indoor botanical garden or an indoor pool tonight. Escaping the elements for a few hours will brighten your mood and make winter more tolerable!
Learn About The Winter Season  
Winter is a fascinating season. Did you know that the earth is actually closest to the sun during the winter, despite the cooler temperatures? The earth's tilt is actually what accounts for the short amount of daylight in the Northern Hemisphere, not our distance from the sun. Snow is also fun to learn about, especially for kids. Each winter, more than one septillion snowflakes fall. In other words, that's a 1 followed by 24 zeros! The average snowflake falls at three miles per hour. When it melts, one inch of snow will only amount to one tenth of an inch of water.
Make Winter Crafts
With snow on your mind, today is also a fun time to break out the craft supplies and make some festive decorations. Kids love making paper snowflakes and snowmen out of construction paper. Other fun crafts to try with your kids are mini snow globes, pinecone bird feeders or gingerbread houses.
Cook Together
Cold, short days are the perfect excuse to have the oven on for fresh batches of cookies. If you make the same thing every year, check out these international cookie recipes you can try. Winter is also a fun time to make hearty soups and other comfort foods. Get the kids involved in the kitchen by letting them help with age-appropriate tasks.
Give Back
With all the holidays this time of year, winter is a time for people to come together. Today is a great time to make a plan for giving back to others. With the end of the year right around the corner, it's also the perfect time to make last minute charitable donations. Anything you donate to charity before Dec. 31 will give you a tax deductible receipt for this tax year!
If you have a car, boat, RV or motorcycle you'd like to get rid of, Wheels For Wishes is here to help! We accept vehicle donations for the 2016 tax year all the way up to 11:59 p.m. on Dec. 31, so the time has never been better to donate your old car. Best of all, your donation will benefit local chapters of Make-A-Wish and other children's charities. We can accept vehicles in nearly any condition even if they no longer run. To find out just how easy and beneficial it is to donate your car, get started today by calling 1-855-278-9474 or using our online car donation form!