Get Ready For The 8th Annual Walk For Wishes
Posted in
Donate Car News
, Thursday, March 12, 2015 Last modified: Friday, March 6, 2020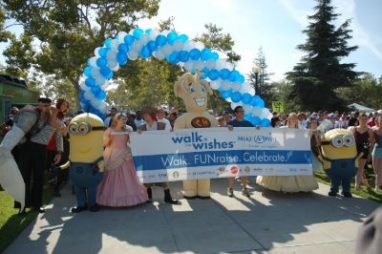 Looking for a fun family activity that supports a great cause this spring? Join in on the 8th Annual Walk For Wishes benefiting Make-A-Wish Greater Los Angeles on April 18. Walkers, volunteers, Wish Families, teams and companies will gather to celebrate the 8,700 wishes already granted by Make-A-Wish Greater Los Angeles, all while raising funds to grant even more wishes in the future. This year's event hopes to raise enough money to grant 340 wishes, and you can help make that happen!
The 2015 Walk For Wishes will be held at the beautiful Exposition Park in Los Angeles (700 Exposition Park Drive). If you will be registering on the day of the event, come to the park at 7:30 a.m. The walk begins at 8:30, followed by a celebration with music, raffles, activities and more.
Registration And Sponsorship
Registration for individual walkers is just $35 for adults and children over 5, but everyone is encouraged to do additional fundraising. Whether you're on a team or you're participating as an individual, there are many fundraising incentives you'll want to be a part of! Check out the fundraising incentives for individuals and teams.
Register today for $35, or on the day of the event for $40. For questions about the walk, contact Vanessa Peterson at vpetersen@la.wish.org.
If you are interested in sponsoring the walk, there are many opportunities to do so. For sponsorship questions, contact Ashley Murphy at amurphy@la.wish.org.
Enjoy Post-Walk Activities
Following the walk, the fun continues with a variety of festivities and opportunities to learn more about the four main types of wishes: to be, to have, to go and to meet. Wish Families will be in attendance as well, and you'll have the opportunity to meet them and see just how powerful wishes can be. Festivities also include a silent auction, prizes, music and food trucks.
Support Make-A-Wish Greater Los Angeles With A Car Donation
If you can't attend Walk For Wishes or you'd like to give back even more, consider making a charitable car donation to Wheels For Wishes benefiting Make-A-Wish Greater Los Angeles. Your vehicle donation is tax deductible and the proceeds from its sale help more local children have their wishes granted. Regardless of whether your car runs or not, we will pick it up for free and turn it into wishes. Donate a car, truck, boat, RV or motorcycle today by calling 1-855-278-9474 or filling out our online car donation form.

Back to Blog