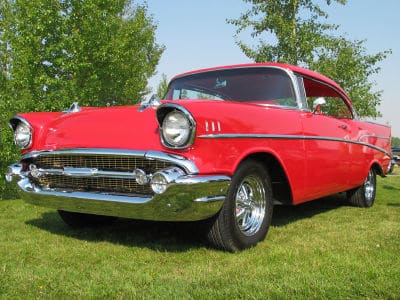 Find A Summer Car Show Event In Your Area
Summer is car show season, and car shows make for a fun day or evening browsing through all the different hot rods and classic cars. If you have a classic car that you'd like to show off, or maybe you'd just like to browse through the other awesome cars out there, take a look at our list of car shows all over the United States! Get the family together, pack a cooler and enjoy one of America's favorite pastimes. 
Car Craft Summer Nationals Rolls Into St. Paul
When the warm weather finally rolls in, classic cars roll out of their garage stalls. From July 18-20, Minnesota guests can enjoy over 5,400 muscle cars at the Minnesota State Fairgrounds. Presented by Chevrolet, this is the perfect family-friendly event for the summer. Learn more on the event website, and enjoy different contests and attractions!
Attend 4th Annual Summer Showdown Car Show For A Good Cause
On July 19, the 4th Annual Summer Showdown Car Show & Silent Auction will be held at Valor Traditional Academy in Louisville, Ky. Earned proceeds from the event benefit the Michael Feger Paralysis Foundation, an organization working to help those with spinal cord injury or related diseases. Enjoy a great car show while also contributing to a great cause!
See Madison Classics At The Summer Elkhorn Show
Madison, Wisconsin's summer car show offers over 1,300 car part vendors and you can also shop for a new car. The show displays hundreds of cars for sale! Spectators will also browse through hundreds of show cars. The event takes place on Aug. 2 and 3. Visit the event website for additional information.
Enjoy Branson's Premier Car Event
Held from Aug. 7-9, the Super Summer Cruise is held in Branson, Mo. and features over 500 cars and trucks! The Super Summer Cruise takes place at the Shepard of the Hills and lasts for three full days. Visit the event website for pricing and event information!
Danville Hot Summer Nights Is The Place To Be
The Danville, Calif. Hot Summer Nights Hot Rod and Classic Car Show will take place on July 17 and Aug.14. For their 20th year, the Danville Hot Summer Nights Classic Car Show has featured Hot Rods, Muscle Cars, and the oldest of cars up to 1976. Don't miss out on this event serving the Greater Bay Area!
Let Us Know Of Any Events In Your Area
If we missed a car show event held in your area, please let us know by leaving us a message on our Facebook, Twitter, or Google+  pages. Let us know what your favorite summer car show events are.
If you happen to be storing a vehicle in your driveway or garage but the vehicle isn't as cool as the collectors featured at these local car shows, consider donating cars, trucks, boats, or campers to Wheels For Wishes, benefiting Make-A-Wish.
Wheels For Wishes provides free pick up or towing of your unwanted vehicle so you can get rid of an unwanted vehicle in a quick and hassle-free way. Plus, there is no cost to donate a vehicle and we take care of the details for you. Call us today at 1-855-278-9474 or fill out an online donation form.
We look forward to hearing about any car show events in your area!