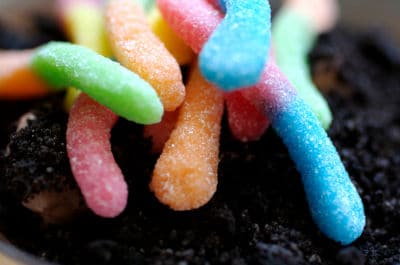 Enjoy Earth Day With Worms In Dirt
Teaching children the importance of keeping the Earth green and healthy is important for the future of the world. Earth Day is a special celebration which promotes green tips and sustainable living. Earth day is celebrated April 22, and became an official United States Holiday in 1970. On the very first Earth Day, more than 20 million people gathered in the streets to protest the industrial revolution. Since then, April 22 has marked a day when families come together to collect garbage, plant trees, clean up beaches, teach one another about living green and sign petitions to promote a better future for the planet. Since 1990, the holiday has been recognized worldwide. Huge projects take place each year, including a 100,000 person bike ride on Earth Day in 2012 in China, and more than 28 million trees being planted in Afghanistan on Earth Day in 2011.
There are plenty of ways to promote Earth Day and teach your children about the importance of protecting the planet. Many families will plant a tree in their yard for each child and watch them grow along with their children. One of our favorite ways to celebrate Earth Day here at Wheels For Wishes is by making Worms In Dirt!
What You'll Need To Make Worms In Dirt
Worms In Dirt are delicious and fun to make with your kids! While you are creating your Worms In Dirt you can teach your children the importance of turning off lights and faucets, recycling, keeping the heat and air down low, and cleaning green. You can also watch a green movie, like Dr. Seuss' "The Lorax." Here are the ingredients you will need to make eight cups of Worms In Dirt:
One 15-ounce package of chocolate sandwich cookies (like Oreos)
One 3.9-ounce package of chocolate instant pudding
Two cups of cold milk
Eight ounces of whipped topping (like Cool Whip)
24 gummy worms of your favorite flavor
Step-By-Step Guide To Worms In Dirt
Making Worms In Dirt is easy, and doesn't necessarily require cooking of any kind! The whole process can be completed in 15-30 minutes. To begin, you will need to gather your chocolate sandwich cookies and place them into a large zip-top plastic bag. Use a rolling pin to crush the cookies in the bag. They might clump together initially, but eventually the cream will blend with the crumbs of the cookies and will look like dirt! Continue to crush the cookies until they are broken down into a fine crumble. A large piece here or there is fine.
The next step is to make your pudding. This could be different for each person depending on the type of pudding you purchased. If you bought instant pudding, you can mix the dry pudding mix with your cold milk in a large mixing bowl. Whisk it all together until the dry pudding dissolves and is free of lumps. Let the pudding sit until it thickens and begins to look like pudding.
Now add the whipped topping with half of your crushed cookies to your large bowl of pudding. Stir it all together until the white of the whipped topping can no longer be seen and the cookies are spread throughout the pudding-whipped topping mixture.
Divide your 'dirt' evenly between eight cups. It should divide into portions of ½ cup pudding snacks. Use a big spoon or ice-cream scoop to get your pudding into the cups. TIP: Tap the cups on your counter a few times to level the pudding.
Finally, take your gummy worms and press them down a little so they are in the pudding. Three gummy worms will fit nicely into each pudding cup. Pour the rest of your chocolate cookie crumbles on top of the pudding and gummy worms so that the entire cup is now filled with a top-layer of cookies! You can use your hand to smooth out the cookie dirt!
And, with that, your cookies will be ready to enjoy! Get creative and send us a picture of your final results by sharing them on our Facebook or Twitter pages!
Set A Great Example By Donating A Car
Children emulate their parents, and you can set a great precedent for greener living by choosing to donate your car! Car donation is a great way to keep the earth healthy, since every car that is donated is recycled or reused and is kept out of a landfill. You can learn more about how car donation is great for the environment in our Car Recycling Benefits blog post. We will pick up your vehicle at no cost to you, and you will receive a tax deduction for your car donation. Plus, each and every vehicle donated to Wheels For Wishes benefits Make-A-Wish and helps to make wishes come true!
Our vehicle donation representatives can help you if you don't know how to donate a car or where to donate a car, so give us a call today at 1-855-278-9474. If you are ready to make your donation, you can also donate online using our car donation form. Don't hesitate to give us a call, and have a happy Earth Day!