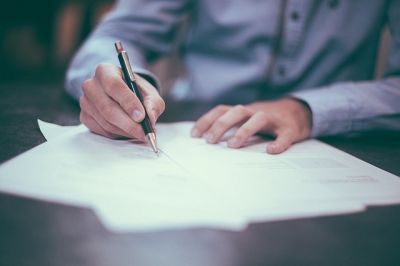 Everything You Need To Know About Your Car Title
Vehicle titles often create a lot of confusion when it comes to buying, selling, inheriting or donating a car. Titles are legal documents, meaning that you may void your title and need to obtain a duplicate copy from the DMV if you fill anything out incorrectly. Because no one wants another reason to wait at the DMV, it's important to do your research before filling out or signing your car title.
What Does A Car Title Look Like?
Although car titles vary by state, they are easy to identify. For example, here is what a Texas certificate of title looks like. Most car titles say "Certificate of Title" at the top of the document. It will also list your state or municipality somewhere near the top, such as "State Of North Carolina." Your title may also say "Department of Motor Vehicles" on the document.
A car title is where all of the important information about your car will be listed. This includes the make, model and year, VIN, the odometer reading when you bought the vehicle, and whether there are any liens out on your car. If your title is "branded" as a salvage, prior salvage, rebuilt or flood damaged vehicle, this will be listed as well. Examples of each state's vehicle titles can be found here.   
What Should You Do With A Car Title?
Your vehicle title should ideally be stored with other important documents in your home. Never keep your vehicle title in your car. It might seem like a convenient place, but it could lead to endless troubles if your car were ever stolen or broken into. With the vehicle title in the car, a thief has all the paperwork and could potentially sell the car with ease.
How Do You Fill Out A Title When Donating A Car?
When you're donating a car, there are a few important things you must keep in mind when it comes to your certificate of title:  
Rules about vehicle titles vary by state. What's allowed in one state might not apply everywhere.
If a lien is listed on your title, a lien release document from the bank is required to show that it has been paid off.
If your state requires a notarized signature on your vehicle title, do not sign the document until you are in the presence of a notary.
Only use black or blue ink to sign your title.
Don't white-out or cross off any items. This may void your title, meaning you have to obtain a duplicate copy.
It's best to contact us for help if you have any questions rather than guessing. Filling out your title incorrectly can lead to delays, extra paperwork or a trip to the DMV.
How To Donate Your Car
Figuring out where to sign the title when donating a car can be stressful, but we're here to help! You can read our vehicle title FAQ for more information, or simply call our title department at 1-855-492-9474 if you're stuck. Whether you're wondering how to do a title transfer for Illinois, North Carolina, Pennsylvania or any other state, our staff knows exactly how to help!
Donating a car is easy and rewarding because we handle everything for you and your donation benefits Make-A-Wish. You also receive free towing and a tax deduction. Donating a car just takes two minutes of your time. Get started right now by filling out an online car donation form or calling 1-855-278-9474. We're here to help with any questions you may have about your title transfer, vehicle towing, tax deduction or anything else!