Car Title Vs. Car Registration | Know The Difference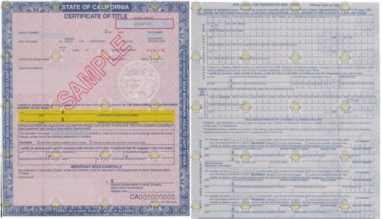 People may not know that a car title and a car's registration are two separate things. Below you can find an in depth description of each document and what they can be used for.
What Is A Car Title?
A vehicle title is a physical document that proves you to be the owner of a vehicle that has been legally registered. This document is given to you by your regional DMV. A title proves that you own the vehicle vs a registration which is a car that has been given authorization to drive on the road through the state.
The title also gives information about the vehicles history, including the vehicle's model, make, year and accident history.
When donating your car or getting rid of your car in any capacity, you will always transfer ownership of your vehicle to the new legal owner.
Here is the primary information on vehicle title's in the U.S.:
The owner of the car, the lienholder, and/or other owners.
The Vehicle Indicator Number (VIN)
The date the title was issued.
The type of title (see below for more details)
The car's make, model, and year.
Check out our "what does a car title look like" page to see more specifics on all 50 states.
What Is Vehicle Registration?
Vehicle registration proves that your vehicle is safe to drive on the road and that you have paid the proper fees and taxes associated with your state's DMV.
This differs from the Title of a vehicle, which (explained above) is proof of ownership and other information about the car.
You'll get your license plate and tabs when you register your vehicle for the first time or something temporary to place in your window. Registration needs to be completed every year (or two years in some states).
Registering your vehicle lets the state know that you can drive your car safely on the road, insuring other drivers are safe driving with you on the road as well.
You may face jail time or large fines if you are driving a vehicle that is not registered with the DMV.
Make sure to update your registration if you move out of state.
Does My Car Registration Expire?
Depending on the state, you will need to register your car every 12 months based on the new year or the vehicle owner's birthday. In South Carolina and Vermont, you will need to register your vehicle every two years.
How Do I Register My Car?
Each state has a different way of registering vehicles. Here is the easiest way to register your vehicle, step by step:
1. Prove that you own the vehicle
You must show that you are the owner of the vehicle before you will be able to register your vehicle with the state. This is done by having the title in your name or transferring the title to your name after acquiring the vehicle. A bill of sale is one of the easier methods of record keeping for the DMV, make sure you bring enough documentation to prove that you now own the vehicle to make the registration process easier.
2. Insure your new vehicle
Choose the carrier and coverage that you want to insure your vehicle before you register. The coverage of your vehicle can be everything from liability, to personal injury, to even the body of your vehicle. You can also choose to opt out of most insurance coverage for a cheaper monthly rate.
3. Gather your documents
You can register online in some states but you can always go to the physical DMV closest to you in your state. Here is what you will need to register a car:
For first time registration, you will typically need these items:

Your state's identification card or driver's license
Your insurance information for the state the vehicle will be driven
A sales tax payment
Your vehicle's title
Documents stating that your vehicle has passes emissions regulations and a safety inspection
The car's registration application

Renewing your car's registration? You'll typically need these items:

Your Vehicle Identification Number (VIN)
Driver's license number
Proof of insurance
License plate number
Proof that your vehicle was registered previously (registration card)
4. Fill out a registration form
The last step is filling out the registration form! You will need your VIN, your license plate number, and your driver's license number.
You will typically have to provide the accident history of the vehicle or any tune-ups the vehicle has had that effect the driving of the car.
Registration fees can range from $20-$200 depending on your car's specifications and what state you are registering in.
Make Sure You Are In Good Standing At The DMV
Any title action requires that the vehicle's registration must not have any unpaid fees or taxes. Make sure that you don't have any:
In order to complete any title process, registration must be in good standing. The most common reasons why a registration would not be in good standing are:
Parking tickets
Toll violations
Unpaid vehicle taxes
How Do I Get A Title?
Here's everything you need to know about your car title.
Car's that are purchased from a car dealership are given a "Certificate of Origin". This is the document you will need to obtain a title at the DMV.
For all other cars that are newer than the year 1973, you'll need to transfer a title into your name. This can be done (in most states) by stating the name(s) of the buyer and seller on the transfer section of the title and a signature on a vehicle bill of sale document. Sometimes a notary is required to complete the transfer.
Cars that are less than 10 years old will typically need an odometer check and a damage disclosure along with the title transfer.
What Type Of Vehicle Title Does My Car Have?
There are many types of car titles, your car likely has one of these title designations:
Certificate of origin: This is the original document given from the car's manufacturer to the car dealership. This is the document you will receive when you buy a brand new car, you use this document to obtain a title.
Manufacturer's statement of origin: Almost identical to the "certificate of origin", the manufacturer's statement of origin is another document that is transferred from the manufacturer to a car dealer, which is used to obtain a title.
Affidavit: This document is a title that is issued under an affidavit (a sworn statement of fact issued by the state) when there is other missing documentation about the vehicle.
Bonded When there is no clear owner of a vehicle, you can apply for a bonded title. Basically, you purchase a security bond worth the amount of the value of the car. If another person claims ownership of the vehicle in the future, the bond can be used to pay to remove that valid claim of ownership or lien.
Clear: The terminology for a title that has no lien.
Electronic: An electronic title can be issued in many states. These can be useful in obtaining physical titles for transferring or loan processing.
Lienholder: When you purchase a car through financing you will have a lienholder title. This title lists you as the owner but the lienholder is listed as the lender. The lender has possession of the title until the vehicle is paid in full.
Junk: If a vehicle has been collected by a junkyard, the title will change to a junk title if the vehicle will be scrapped or sold for parts in the future.
Salvage: The three loss events that qualify a vehicle to be designated as a salvage title are theft, repair, and/or major damage. Usually when a vehicle has incurred 60% more damage than its value it is designated as a salvage title.
Flood & water damage: Any time a vehicle goes through a flood, has had water damage from a rain storm, or has been submerged in a body of water may be designated a flood & water damage title. 
Import: An import title is simply a vehicle that has been imported into the U.S. for the first time.
Export: If a car is being exported, the vehicle will need a designated export title. This title makes it possible for customs clearance.
Reconstructed: Any car that has been rebuilt for road use can be branded as a reconstructed title by a collision center, body shop, insurance company, and/or a licensed vehicle rebuilder.
Rebuilt: Similar to the reconstructed title, the rebuilt title brand can be assigned by a collision center, body shop, insurance company, and/or a licensed vehicle rebuilder.
Certificate of destruction: This title designation means that the car is to be destroyed and not used for road use.
Parts only: This title brand is typically taken care of on a title transfer for parts only.
Lemon: A lemon title brand is a title designation for cars that have experienced the same mechanical failure several times.
Odometer roll back: If someone has attempted to tamper with the odometer in a car in order to sell the car at a higher price, a mechanic can brand the vehicle with an odometer rollback title.
Do I Need To Register My Car Before I Donate A Car?
The short answer to this question is "yes". You will need proof of ownership to get any type of tax deduction from a 501(c)(3) IRS registered charity. You typically just need a title and a vehicle that has been registered in your name at some point in the past.
See more tax tips for donation here.
Do I Need My Title To Donate A Car?
Donating your car without a title? You will need a title to complete the donation process, however, you can easily obtain a duplicate title or an electronic title (in some states) that will take care of this issue.
There are ways to donate a car with no title but if you want all of the tax benefits of a charitable car donation you'll want to make sure you have the title with the car.
Getting A Duplicate Title By Yourself Or With The Assistance Of A Charity
If you have lost, misplaced, damaged, or destroyed your vehicles title you can typically get a new one through your local DMV. You will need to fill out some forms and prove ownership of the vehicle. Every state differs when obtaining a duplicate title.
If you were denies, delayed, or just having a hard time obtaining a duplicate title, you can work with a non-profit like Wheels For Wishes. Wheels For Wishes is a car donation program that benefits Make-A-Wish kids. We can help you obtain a duplicate title and let you know exactly what you need to fill out in a timely matter when the DMV might take weeks to get back to you.
How Do I Donate A Car?
Donate a car with the steps below. You can donate your car the easy way with Wheels For Wishes, benefiting Make-A-Wish kids near you! Here's how to donate a car:
First, call 1-855-278-9474 or visit our

online donation form

 to get started on your car donation.
Next, we'll arrange your free towing within 24 hours of the next business day. If you have no title or one of the titles specified in the article above, our title department will gladly help sort out almost any title issue your vehicle may have.
Finally, when the car donation process is complete, we'll mail you your tax deductible receipt. You can use this to complete your 1098 c form and attach it to your taxes.
Our representatives can help you out regardless of your title situation. If you have any other title questions check out our Title FAQ page, it has great tips on state by state questions and other specific title issues. Help Make-A-Wish kids with the click of a button with your car donation to Wheels For Wishes!
Sources:
https://www.carinsurance.com/title-vs-registration.aspx#:~:text=In%20a%20nutshell%2C%20it%20shows,hand%20with%20the%20titling%20process.
https://www.policygenius.com/auto-insurance/whats-the-difference-between-title-and-registration/
https://www.rategenius.com/vehicle-registration-vs-title

Back to Blog