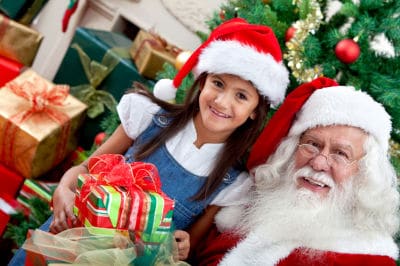 Get Pictures With Santa At Exclusive Make-A-Wish Event
The holidays are a great time to get together with family and friends, and of course, get your child's photo taken with Santa Clause. In Seattle, if you are supporter or would like to be a supporter of Make-A-Wish Alaska and Washington, there's a special opportunity to take part in a special meeting with Santa while helping to grant wishes.
Make-A-Wish Alaska and Washington is celebrating the holidays in a winter wonderland at the Four Seasons Hotel Seattle (99 Union Street) at the upcoming Season of Wishes Brunch with Santa. This event is exclusive to donors who are part of the Wishful Giving campaign who donate at the Wish Friend level and above. Guests will enjoy a delicious plated breakfast, create holiday themed crafts to take home and receive a commemorative photo with Santa. For questions about the Brunch with Santa, please contact Lindsey Johnson.
Join The Wishful Giving Program
Make-A-Wish Alaska and Washington's Wishful Giving Program gives you a way to make a significant and meaningful contribution. The annual donors that are part of this program are committed to spreading hope, strength and joy to kids with critical illnesses in communities throughout Alaska and Washington. Donor levels are:
Wish Champion ($25,000+)
Wish Visionary ($10,000 - $24,999)
Wish Granter ($5,000 - $9,999)
Wish Partner ($2,500 - $4,999)
Wish Friend ($1,000 - $2,499)
Wish Club ($500 - $999)
Wishful Giving donors are entitled to exclusive benefits throughout the year, including a special invitation to the Season of Wishes Brunch with Santa. Some of the other benefits include: Invitations to Special Experience Wishes; Limited edition "Wish Kid's" book with wish quotes and photos; the opportunity to Adopt-A-Wish; recognition on the Make-A-Wish website, and much more.
To learn more about the Wishful Giving program, contact Dayna Russell at 206-623-5300.
Make-A-Wish Alaska & Washington granted more than 300 wishes last year alone, and can do so thanks to your attendance at events and participation in the Wishful Giving program.
Help Make-A-Wish In Other Ways
There are lots of ways you can help Make-A-Wish Alaska and Washington, including donating airline miles to help grant wishes that require air travel. Another way you can help is to donate your vehicle to Wheels For Wishes benefiting Make-A-Wish Alaska and Washington. We help provide funding for Make-A-Wish to grant wishes to local children with critical illnesses.
Even if your car is no longer running, we can tow away or pick up your car for free and use it to benefit children in your community. Don't deal with the stress of selling a car, or maintaining a vehicle that just doesn't want to work – instead, donate your car and make a difference. And, as a nonprofit, when you make a donation to Wheels For Wishes, you receive a great tax deduction!
Making a donation is simple. Just call us at 1-855-278-9474 or fill out our easy vehicle donation form online. Make the decision to donate! Car, truck, RV, SUV, boat or motorcycle – we make the donation process easy so you can continue along with your busy life.