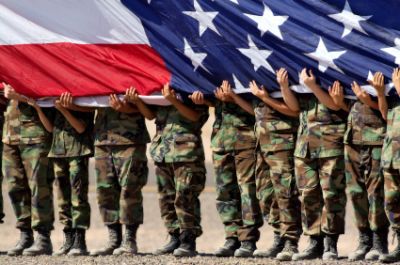 Honor America's Servicepeople On Armed Forces Day
Every day, Americans should be grateful to the members of the Armed Services that help keep our country safe. On May 18, however, it is Armed Forces Day, the national holiday established to thank our military members for their patriotic service in support of our country. The holiday was started on Aug. 31, 1949, when Secretary of Defense Louis Johnson announced the creation of an Armed Forces Day to replace separate Army, Navy, Marine Corps, Air Force and Coast Guard Days.
The single day celebration stemmed from the unification of the Armed Forces under the Department of Defense, although the individual branches still observe their own days within their respective branches of service. National Guard and Reserve members will often commemorate Armed Forces Day anytime during the month of May due to their unique training schedules.
Communities Celebrating Nationwide
Across the countries, communities are doing their part to celebrate our servicemen and women. Here are just a few of them:
The nation's longest-running, city-sponsored Armed Forces Day parade is in Bremerton, Wash., and will be returning for its 65th year as part of a weekend full of events.

Torrance, Calif., will honor the men and women of our nation's military for the 56thyear with a three-day celebration that will begin on Friday, May 17, and continue through Sunday, May 19. The Parade highlight will be on Saturday, May 18. This year's honored branch is the United States Marine Corps.

In Southern California, the Oceanside Chamber of Commerce will bring the business community and area residents together to provide a day of recognition to all active-duty military stationed at Camp Pendleton and nearby military bases. Thousands of active duty military and their family members are treated to a day of free food, carnival rides and entertainment at the Oceanside Pier Amphitheatre.

Like motorcycles? Head to Milwaukee for the Milwaukee Armed Services Committee for a ride from Hal's Harley-Davidson and ending at the Harley-Davidson Museum. There will be special military displays, ceremony, live music and food. The DAV's Mobile Service office will be on site to educate disabled veterans and their families on important benefits and services they can take part in.

If you can't get to Milwaukee, FreedomRide is organizing nationwide rides to observe Armed Forces Day while reminding Americans of the importance of remembering those who sacrificed their freedom for the rest of us.
Other Ways To Celebrate, Honor Service People
At Wheels For Wishes, we are so thankful for all of the sailors, soldiers, pilots and Marines for how tirelessly they work to keep our country free.
In honor of the members of the Army, Navy, Marine Corps, Air Force and Coast Guard, consider donating a car, truck, SUV, RV, motorcycle, or boat to Wheels For Wishes. When you donate a vehicle to Wheels For Wishes, benefiting Make-A-Wish, you are helping to grant the wish of a local child in your community.
To donate a vehicle to Wheels For Wishes, simply call 1-855-278-9474 or fill out our easy online automobile donation form. Both ways only take a moment of your time but will leave you with a great feeling that won't go away. Most importantly, it will grant the wish of a local child and change their life forever!