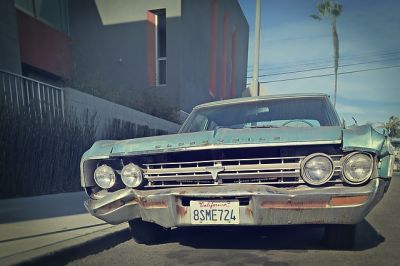 9 Best Reasons For Donating Your Car To Charity
A lot of people wonder if their car can be donated. In most cases, the answer is yes! People have many reasons for donating a vehicle, and each person's situation is different. If you have a car you don't want for any reason, consider donating it to a charity like Wheels For Wishes. Many people have found it much easier and more beneficial to donate a car versus sell it. 
Of the countless reasons people donate their cars, here are a few of the most common reasons we've seen!
1. It's A Junk Car
When a car has rust damage, doesn't run or is just an all-around clunker, car donation is often the easiest option. In most cases, you can donate a car in any condition, even if it is a junk car or is non-operational. As an added benefit, donors receive free towing even for junk cars.   
2. The Car Needs Repairs
Repairs are expensive, and if it's for a car you don't want to keep anyway, they're even less appealing. Donating your car means that you don't have to worry about making any repairs or doing maintenance on a vehicle you don't want. As an added bonus, you can stop paying insurance on your unwanted car as soon as you donate it.
3. The Car Belonged To A Deceased Relative
When a relative passes away, deciding what to do with their belongings can be tough, both emotionally and logistically. Vehicles are often not a sentimental item, and when a relative passes away it can be a burden to hang on to their old car. On top of that, things can be confusing when the vehicle title is in a deceased person's name. However, donating your car gives you the benefit of having experienced staff walk you through the process and clear up any questions you have.  
4. Donors Want To Make Extra Space In Their Garage
Cars, boats, motorcycles and especially RVs take up a lot of storage space. If you're holding on to an extra vehicle for any reason, you're sacrificing dozens of square feet of storage space. An average car can take up 130 square feet of space. If you never use one of your vehicles, you can save a lot of space – and time – by donating it.
5. It's A Seasonal Vehicle That Is Rarely Used
The biggest storage space-hogs? Seasonal vehicles such as boats and RVs. A small RV can take up more than 290 square feet in a garage. Boats can take up their fair share of space too. If you don't have the room to store these vehicles indoors on your property, you often have to pay for a storage space or buy expensive covers that will protect your seasonal vehicle until spring.
6. The Donor Doesn't Want To Try Selling The Vehicle
Selling your car online can be disappointing, not to mention dangerous. You never know who's going to show up to look at your vehicle and whether they'll try to rip you off. When you donate your car, a professional tow truck driver will show up at a scheduled time to take your vehicle. You don't have to worry about haggling with strangers or meeting in a neutral location to sell your car. When you donate your car, a tow truck comes straight to you.
7. Trading In A Car Isn't Worth It
Trading your car in is often even more disappointing than trying to sell it. Trade-ins rarely give you the return you were hoping for. For trade-ins, dealers typically only offer 80 percent of the Kelly Blue Book value, and sometimes it can be as low as 60 percent.
8. Car Donations Are Tax Deductible
The biggest draw of car donation, for many people, is that car donations to registered 501(c)(3) nonprofit organizations are tax deductible. The charity will issue you a tax receipt after your donation is accepted. This allows you to claim a deduction on the following year's taxes.
9. Donating A Car Helps Charity
One of the best reasons for donating a car is that it helps a charity. Your old car might not seem that important to you, but the proceeds from its sale can benefit the mission of a charity you want to support. When you donate your car to Wheels For Wishes, your donation benefits your local chapter of Make-A-Wish!
All you need to do to donate your car to Wheels For Wishes is call 1-855-278-9474 or fill out an online car donation form.