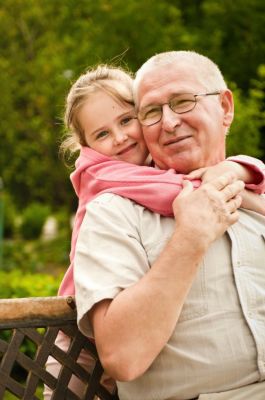 Five Ways To Celebrate National Grandparents Day
Many people are lucky to have grandparents in their lives, and National Grandparents Day on Sept. 10 is the perfect time to show your gratitude. Even if you don't have living grandparents, Grandparents Day is also an opportunity to spend time with or say thank you to other older adults in your life who have made a positive impact on you. Whether you live far away or just down the street from your grandparents or important older adults, there are many simple ways to make them feel special today! 
If you're still looking for a special way to spend the day, consider doing one of these fun things with your grandparents or in honor of them:
Community Celebration
Check to see if an organization or city in your area is doing something special for Grandparents Day. Some local businesses may offer discounts or free admission on this day or host an event that celebrates the day. Perhaps a local attraction like a zoo will offer free admission this Grandparents Day! 
Get Active With Grandparents
Spend the day doing activities or exploring outside. Many areas host Grandparents Day races or other outdoor activities that are a great opportunity to get outside and spend the day with your grandparents and your community.
Garden Together
Although National Planting Day, an annual effort to get communities involved in reintroducing native plants to natural areas, takes place before Grandparents Day, a fun way to spend the day might be to plant something together. There's even an official flower that symbolizes Grandparents Day – the Forget-Me-Not. These spring-blooming flowers can be pink or white, but are most commonly periwinkle blue. Planting these or any kind of native wildflower or plant might be the perfect way to celebrate the day with your grandparents.
Show You Care
Make a handmade card, give your grandparents a call, or stop in for a visit. If you live farther away and visiting your grandparents isn't easy, they will appreciate a phone call or card that reminds them you're thinking of them on Grandparents Day. If you live close by, they'll really appreciate you stopping by to spend some time with them.
Volunteer Together
The day can sometimes be made more special when you spend it together helping others. See if your local animal shelter, food pantry, community kitchen or care facility needs an extra hand on Sept. 10. Volunteering together is a great way to give back to the community while also bonding with your grandparents along the way.
Give Back To Your Community With Vehicle Donation
If you've given back to your community today and are looking for more ways to help out, consider donating an unwanted vehicle to Wheels For Wishes. How does car donation benefit the community? Because Wheels For Wishes benefits local chapters of Make-A-Wish, the proceeds from your car donation will help Make-A-Wish grant wishes for children in your community who are facing critical illnesses. Donating a car is a great way to help Make-A-Wish grant more wishes for deserving children.
Wheels For Wishes accepts most makes and models in nearly any condition, whether they run or not. Donate your car, truck, boat, RV, or motorcycle today to put it towards a great cause. All you need to do is call 1-855-278-9474 or fill out an online donation form today.