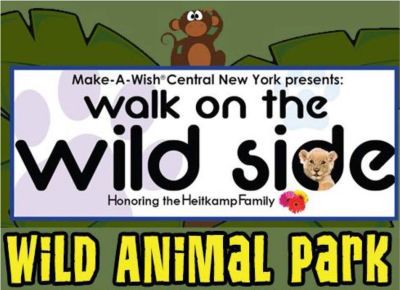 Walk On The Wild Side At The Wild Animal Park
Now in its third year, Make-A-Wish Central New York's Walk on the Wild Side event is taking place at the Wild Animal Park (7261 Lakeport Rd.) in Chittenango on July 29. The event runs from 5:30 to 8:30 p.m. Walk on the Wild Side is a great way to get out and help Make-A-Wish, but it's also the perfect family event for the summer. Kids will love exploring the Wild Animal Park and learning about wild animals. 
Get Your Tickets Today
Tickets can be purchased online and at a number of places around the community. Locations include: Gary's Auto, Hiawatha Fasteners, participating Tops Friendly Markets and the Make-A-Wish Central New York office.
Adult tickets are $25 each and children's tickets for ages 3-12 are $20. Kids 2 and under can participate for free. Each ticket includes admission to the park, zoo shows and demonstrations, a welcome backpack full of goodies and dinner. Everyone will also receive a safari game card the chance to participate in other games, all of which give you a chance to win prizes.
Explore The Zoo And Help Make-A-Wish
The Wild Animal Park is located on 12 acres of land and is filled with fun and adventures. Kids will love seeing animals from all over the world. Some of these include Bengal tigers, camels, alligators, black bears, kangaroos, zebras, macaws, monkeys and more!
In addition to seeing the animals, Walk on the Wild Side is a great way to raise more money for Make-A-Wish Central New York. The proceeds from ticket sales will go towards Make-A-Wish, but additional fundraising can help even more. Individuals who go above and beyond can enjoy some additional fundraising perks:
Raise $50 to $99 and you will receive a Make-A-Wish Bracelet, tattoo and sticker.
$100 to $149 will give you a Make-A-Wish magnet and clip
$150 to $199 gives you a Make-A-Wish Frisbee
$200 to $249 gets you a Make-A-Wish hat and lanyard.
You can extend your support even more by raising $250 or more to become an event sponsor. Sponsorship rates range from $250 to $10,000 and include a variety of perks for you and your company. Check out the fundraising guide on the event website for more details.
Donate A Car To Benefit Make-A-Wish Central New York
Another great way to help Make-A-Wish grant more wishes is to donate your car to Wheels For Wishes. As a 501(c)(3) nonprofit organization, Wheels For Wishes benefits Make-A-Wish Central New York. Your car donation will give you free towing from anywhere in New York and a great tax deduction. You'll also feel great knowing your unwanted car is helping local kids! Call 1-855-278-9474 or fill out an online car donation form to make your donation today.