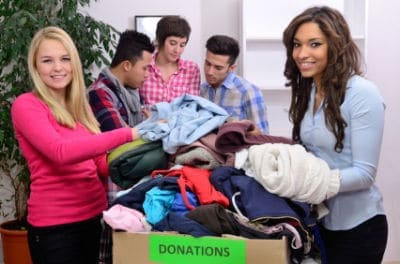 Ways To Give Back To Your Community
It's just about one month into the New Year and one of your New Year's resolutions may be to volunteer and give back to the community you live in. One of the biggest ways you can give back is through donating an old vehicle to Wheels For Wishes, benefiting your local Make-A-Wish. However, if you don't have a car, truck, SUV, RV, boat, or motorcycle to donate right away, consider giving back to your community in other ways, such as volunteering your time at an organization of your choice or making a donation of food, clothing, or money.
Volunteer Your Time
When you volunteer your time, you are helping others in need while also spending your time in an excellent way. Not only are you making others happy, but you will also feel great about yourself. With so many different organizations to volunteer at, it can be hard to figure out which is the best fit for you.
For your convenience, we have put together a list of ways to volunteer your time for the New Year. We want you to reach your New Year's goals, and we want you to feel great about helping others in need so you can both enjoy a happy and healthy New Year.
Volunteer at an animal shelter by helping with administration or volunteering to walk the dogs and play with the smaller animals
Adopt a new pet or foster a pet until a permanent home is found
Volunteer at a wildlife rehabilitation
Give blood or help out as a blood drive volunteer
Help serve food at a soup kitchen
Organize a fundraising event of your choice
Plan ahead and volunteer at a summer camp for children
Get your long hair cut and donate it
Adopt a highway and help plant flowers or trees, and pick up litter on the highway
Help pick up trash in your neighborhood
Spend time at a nursing home
Organize your own food drive and donate it to a food shelf
Knit hats for cancer patients going through chemotherapy
Tutor or mentor a child
Help an elderly neighbor with running errands
Volunteer at a local senior center
Do yard work for an elderly neighbor or a grandparent
Teach a class at your church, whether it's at the day care center, Sunday school class, or help with cleaning or organizing an event
Help deliver meals
Make A Donation
If you have an old vehicle to donate, then make your donation to Wheels For Wishes, benefiting your local Make-A-Wish. Your old vehicle will help to grant a wish for a local child in your community. However, there are plenty of other ways to make a donation and give back to the community you live in!
Clean your cupboards and donate non-perishable food items to your local food shelf
Clean out your closets and donate your old clothing to an organization of your choice
Donate old curtains and gently used furniture
Donate old towels and pet toys to animal shelter
Donate winter coats, hats, mittens, boots, and scarves
Donate old furs to wildlife rehabilitation centers. These furs can be used for young animals until they are ready to be released into the wild
Donate books to a secondhand book store or a library
Donate toys and coloring books
Donate old lamps or pictures that you no longer want
Donate unopened pet food and treats to animal shelters
Donate your unwanted holiday decorations
Donate new baby blankets to a nursery
Donate art supplies to daycares or schools
Donate baby wipes to schools, which can be used for various projects
Make a cash donation
Alternately, sell your unwanted items and donate the earned proceeds to charity
Volunteering time, items, or cash are always beneficial to someone, somewhere. No matter what you decide to donate, you will be making a difference.
To make a difference in the life of a child in your community, consider donating an old vehicle to Wheels For Wishes when the time is right. Give us a call at 1-855-278-9474 or check out our 2013 Guide To Donating Your Car To Charity. Make 2013 the year when you get rid of that old car and give back to the community you live in!