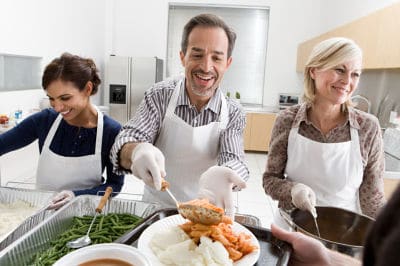 6 Ideas For Ways To Give Back And Make A Difference This Thanksgiving
Whether you're looking to take a break from your family's Thanksgiving dinner this year or you'd just like to give back to the community and make a difference, there are plenty of ways to impact the lives of others this Thanksgiving. From volunteering your time with charities to donating goods, there is no shortage of ways to make a difference this Thanksgiving. 
1. Give Back To Your Community
According to TalkPoverty.org, 46.7 million people in the U.S. are living in poverty, around 14.8 percent of the population. Additionally, 40 percent of food in the U.S. is thrown out each year, which is enough to feed 25 million Americans. Instead of feasting on a large meal this Thanksgiving, consider helping those who are unable to participate in a large Thanksgiving meal. Instead, give back to those in need and help to make their holiday memorable. 
If you're looking to give back this Thanksgiving, choose from any of the ideas below, or let us know what your ideas are. We'd love to hear your ideas on our Facebook, Twitter, or Google+ pages.
2. Create Thanksgiving Baskets
To help those who are unable to afford a Thanksgiving dinner, put together a variety of Thanksgiving gift baskets to distribute locally. Local charities may be collecting baskets to donate to those in need. When creating your basket, consider adding the following items:
A box of mashed potatoes

A box of stuffing with gravy packets

One can of corn, yams, cranberries, and green beans

A pumpkin or apple pie

Bags of tea or apple cider packets

A carton of shelf-stable almond, rice, or soy milk

Canned soups

A box of cornbread mix

A warm fleece blanket

Mittens, scarves, socks, and hats

Shampoo, soap, toilet paper, personal care products

Gift cards to grocery stores

Games such as UNO, Go Fish, and Scrabble
3. Volunteer At A Soup Kitchen Charity
Thanksgiving is a popular time to serve food at a soup kitchen, so your time may be better spent on the weekend before or after Thanksgiving. Either way, you'll want to call to make plans in advance since shifts do fill up quickly.
Rather than serving food at a soup kitchen, other volunteer opportunities may be available such as helping to prepare food, pick up donations, or cleaning up after the meal. Call your local soup kitchen to see where they could use the most help.
You may also wish to volunteer your time delivering meals to the sick or elderly through Meals on Wheels.
4. Hold A Food Drive
Holding a food drive allows you to help out without investing a bunch of your own money. Plus, you'll end up collecting a variety of goods that you may not have thought of on your own. Check out the DoSomething.org website for information on holding a Supermarket Stakeout, which may be the perfect opportunity to collect donations for your food drive.
5. Visit Patients At Your Local Hospital
Many people are unable to enjoy the holiday months if they are in the hospital. The holidays can be especially lonely if their families do not live nearby and they don't have any visitors. Many of these patients may enjoy your company on Thanksgiving. Call your local hospital to see if there are any patients who would enjoy some company on Thanksgiving, and stop by with a board game, flowers, or a small gift to brighten their day. During Covid-19, hospital visitations may be restricted, make sure to call ahead and see what visitations are allowed.
6. Donate Your Car To Charity
When you donate a car, truck, boat, or motorcycle to Wheels For Wishes, your donation benefits your local Make-A-Wish chapter and helps to grant the wish of a child between the ages of 2 ½ and 18 with a critical illness. Donate your vehicle and help to grant the wish of a child over the holidays. Simply call 1-855-278-9474 or fill out an online car donation form.
However you choose to give back on Thanksgiving, you will surely be making a difference in the lives of others!