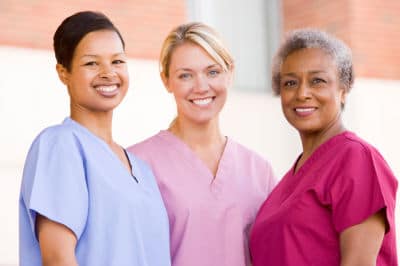 Great Ways To Celebrate The Nurses In Your Life This Week
Wednesday, May 6 is National Nurses Day, which kicks off the weeklong celebration of nurses, National Nurses Week, from May 6-12. If your life has been touched by a nurse or you have a nurse in the family, you know just how important nurses are in our lives. You can thank a nurse who's made a difference for you any day, but May 6 is an extra special day to show your gratitude!
Nurses' contributions can sometimes go unnoticed, which is why it's so important to shed some light on the amazing work they do. Here are five ways to show your appreciation on National Nurses Day:
Send a card or flowers to a nurse who has made a difference for you. A simple "thank you" in person can also make a nurse feel appreciated. Some hospital websites may also have online reviews you can fill out, which might have a space for you to show your appreciation for a nurse or unit that you want to thank.
If you had a great nurse while you visited or stayed in a hospital, get in touch with the unit supervisor to let them know their team was great. Not only will the nurses appreciate getting the compliment from a supervisor, the supervisor will also love getting positive feedback about their team. 
Bring in some healthy on-the-go style snacks for nurses you know. If you drop them off in the daytime, make sure you bring enough for the night shift as well!
If you're a hospital administrator, you can do something extra special by providing treats or on-site massages at work on National Nurses Day. Hosting a breakfast or lunch event that highlights your nurses' contributions and hard work is another great way to celebrate.
Consider nominating an exceptional nurse you know for the DAISY Award For Extraordinary Nurses. This award honors a special nurse and sheds light on his or her hard work and commitment to nursing.
Celebrate Nurses All Week Long May 6-12
National Nurses Week is celebrated to coincide with Florence Nightingale's birthday, May 12, 1820. Nightingale is considered to be the founder of modern nursing, helping to transform it into a more respected profession that promoted sanitary conditions, hygiene, a good diet, and attentiveness as the foundations of proper care.
Today these tips are common sense, but they helped change the world of nursing into what it is today. Every day, nurses work to provide the best care possible, so there's no reason nurses should only have one special day. Why not do something special every day this week? National Nurses Week reminds us to reach out and say thank you, but don't hesitate to share your gratitude any day of the year.
Donate A Car In Honor Of Wish Kids This Week
Nurses play an important role for everyone, including Wish Kids and their families. Kids who spend a long time in the hospital fighting critical illnesses also get to spend a lot of time with their nursing team.
Nurses can even inspire Wish Kids to aspire to a nursing profession themselves. Take a moment to read Wish Kid Samantha's story to see how a great team of nurses inspired her to become a nurse for her wish.
If you'd like to make more wishes like these come true, the answer may be as close as your garage. Donating an unwanted vehicle such as a car, truck, boat, RV or motorcycle to Wheels For Wishes is a great way to help wishes come true. Our nonprofit car donation program benefits local chapters of Make-A-Wish, helping them reach children from all over and grant their wish during a time when they need it most.
Donating a car is easy. Simply give us a call at 1-855-278-9474 or fill out our online car donation form. Children facing critical illnesses get a great deal of hope, strength and joy when looking forward to a wish. With a car donation you can help make that happen.