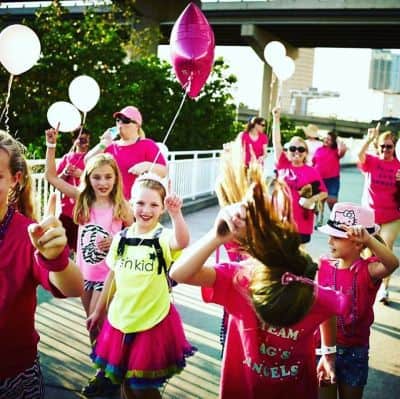 Walk So Kids Can Wish In Tampa Bay
The 3rd Annual Tech Data Tampa Bay Walk for Wishes presented By Allegiant Air begins on Saturday, April 30. Help Make-A-Wish Central and Northern Florida reach their goal of raising $200,000 by joining in the Walk For Wishes, part of this year's Riverfest. This is a two-mile, relaxing and beautiful walk along the Hillsbourough River. Participation includes access to family fun, festivities, live entertainment, and food vendors. Come join us! 
How To Join
You can register online for the Tampa Bay Walk for Wishes and start collecting donations today. The registration fee is $20 and includes entry into the pre and post Walk for Wishes celebrations. For kids who are eight years old or younger, the whole event is free. Kids are still encouraged to still raise money to grant wishes for other kids.
Start raising money now to earn the status of being a Wish Sponsor. That means that you've raised $8000 or more, which can grant one wish for a child with a critical illness. Spread the word to your family and friends. They can sponsor you online and you can track the progress of your donations.
This entire event is powered by Wish Families, volunteers, sponsors, donors, and you. Walk for Wishes is a nationwide experience that allows you to fundraise in order to celebrate the thousands of wishes that have been granted by Make-A-Wish. Meanwhile, you can bring more life-changing experiences to kids with critical illnesses by participating in the Tamp Bay Walk for Wishes. Fundraise for future wishes, and make an incredibly powerful impact on your community.
The Fun Of The Event
The night prior, on Friday April 29, the VIP "Packet Pick-Up Party" will be held at Yeoman's Cask & Lion in Downtown Tampa. This even is for team captains, sponsors, and donors contributing over $1000 to the event and will last from 5-8 p.m.
But don't party too hard, because the following day begins with registration at 8 a.m. While registration is open, food vendors will serve snacks. At 9:15, the Walk for Wishes Opening Ceremony and Countdown leads the event into the 9:45 start of the walk. The Riverwalk will turn around at Cotanchobeee Fort Brooke Park and return to Curtis Hixon Park. There, walkers will be able to enjoy music, more food vendors, and they will get to celebrate having granted more wishes.
This Is Your Chance!
Walking for Wishes is a great opportunity to grant more wishes to kids in central and northern Florida, and you can continue walking if you donate your car to Wheels for Wishes, benefiting Make-A-Wish Central And Northern Florida. You can donate a car, boat, RV, ATV, motorcycle, and many other types of vehicles by calling 1-855-278-9474 or by using our online donation form. Keep walking, and make even more wishes come true.