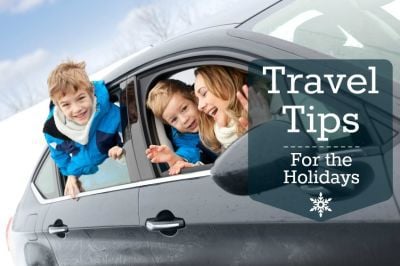 Travel Tips For The 2016 Holiday Season
For most of us, traveling is one of the most dreaded parts of the holidays. According to the US Department of Transportation, the number of long-distance road trips increases by 23 percent around Christmas weekend. Everyone knows that airports, busses, train stations and roads will be busier than normal, but using just a few practical tips can help avoid much of the stress that comes with travel. 
Pack Lighter Than Usual
If you're flying, it's especially important to pack light. Stick to one carryon bag if possible for your outgoing trip. Not only will you save money, you'll have a much easier time navigating crowded airports. The same tip can apply to car travel. Although you have a lot more room in the car, packing light leaves more room for the gifts you're giving and also the ones you receive.
Bring An Extra Suitcase
Having a small carryon works well for your outgoing trip, but what happens when you have to take presents home with you? Packing a lightweight duffel bag in your carryon will give you the option to pack your presents up with ease for the return trip. If you're traveling by car, bringing a large tote, laundry basket or basket will make it easier to cart presents home.
Don't Forget Essentials
Aside from clothes and your toothbrush, there are several other items that you wouldn't always think to bring if you don't use them on a regular basis at home. If you're staying with a lot of family, earplugs or headphones might help you sleep better if it's noisy into the night. You also may want to bring an immune booster like Emergen-C or Airborne tablets to stave off any illnesses before they start. 
Pack Non-Electronic Entertainment
Whether you have downtime in the car, at the airport or even at your family's holiday party, it's always handy to have something to do that doesn't need to charge. Outlets are often in short supply at the airport and it can be hard to keep your phone charged on long road trips. Pack books for the kids and one for yourself as well as a small hobby such as knitting or a Sudoku book.
Get Your Vehicle Ready Now
Rather than waiting until closer to your trip, take your car in for some routine maintenance as soon as possible. A mechanic can inspect your tires, look under the hood for any problems that may arise and give you an oil change if needed.
Avoid Peak Travel Times
Since Thanksgiving is always on a Thursday, it's pretty easy to predict what travel conditions will be like for the whole weekend. Christmas and New Year's, on the other hand, can be on any day of the week. With both Christmas and New Year's Day on a Sunday this year, travel will likely be busy the whole weekend as well as on Thursday or Friday. The best you can do is avoid peak rush hour times if you're leaving on a weekday. Morning hours between 6 and 9 a.m. and evening hours from 3 to 7 p.m. are considered peak travel times on a normal work day.
Give Back This Holiday Season
With all the hustle and bustle of the holiday season, it's easy to get swept up in plans and trips. This time of year is also when we're reminded to think of others and give back. If you have an unwanted vehicle, you can turn it into so much more when you donate it to Wheels For Wishes, benefiting Make-A-Wish and other causes for children. Not only will you help fund life-changing programs for kids, you'll also receive free towing and a great tax deduction!
Any donation we receive before 11:59 p.m. on Dec. 31 counts for the 2016 tax year, so there's never been a better time than now to donate your car. If you're ready to donate, simply give us a call at 1-855-278-9474 or fill out our online car donation form.