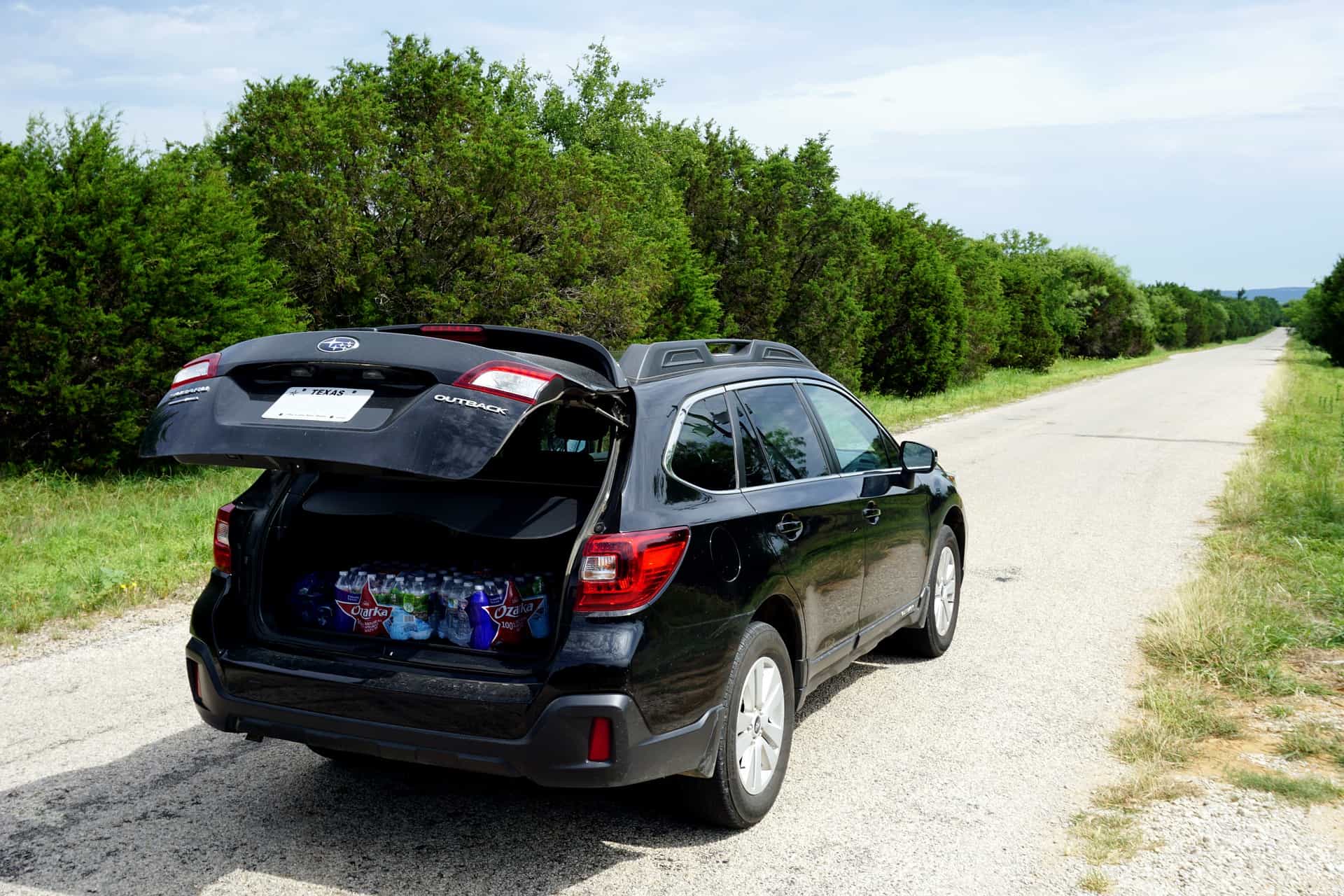 Things To Keep In Your Car
It can be difficult to know all the things to keep in your car. There are things you need if you get pulled over. There are other things you need if you have a flat tire. Plus, there are a whole different list of things you need if you're driving with the whole family. To make it easy, we made a list of all the items to keep in your vehicle.
Emergency Essentials
Every used car needs these items in case of an emergency:
Map – in case you get lose with no GPS battery
Spare tire
Tire Iron/Lug Nut Wrench
Jack – it's recommended to spend the extra money on a hydraulic jack. These are easier to operate, faster, and ultimately safer.
Flat repair kit
Jumper cables
Swiss army knife – any type of all-in-one tool, or a separate tool box if you have the space
Flare gun
Window breaker
Seat belt cutter
Flashlight
Matches
First Aid Items For Your Car
Scrapes, cuts and other injuries happen on the road. Be prepared with these items:
Band-aids in various sizes
Thermometer
Antibiotic cream
Antibacterial gel
Pain reliever
Tweezers – great for splinters, etc.
Allergy medicine – this includes emergency allergy medication like EpiPens
Lip balm
Ace bandages
Gauze
Adhesive tape
Aloe Vera
Sunscreen
Insect bite relief pads or spray
Vaseline
Curved scissors
Saline solution – for eyes and wounds
Hand sanitizer
Maintenance Musts
Sometimes you need to do car maintenance on the go. These items will help keep you moving, and prevent damage to your vehicle:
Car Manual – your vehicles manual will help with your various maintenance questions
Tire pressure gauge
Tire jack
Oil and funnel
Windshield washer fluid
Bottles of any fluids you know are leaking
Always Have These Items On You
There are certain things you always need when entering a car. These include:
Drivers license
Car Insurance – the car registration copy on you can be on your phone or in your wallet
Money – you never know when you'll need to pay for gas, a tow, repairs or even a snack!
Glove Box Necessities
Your glove box should always contain these items:
Copy of your car registration
Copy of your car insurance
Vehicle maintenance history
Napkins
Miscellaneous Things You Always Seem To Need
If you have a center console, these items are a good fit:
Change for parking
Sunglasses
Notepad
Reliable pen
Music – CDs, tapes, an aux cord, or bluetooth to hook up to your phone
Phone charger – you can often hook this up to an adapter in your cigarette lighter
What To Keep In The Trunk
Besides your spare tire, jack and tire iron, these are good things to keep in the trunk:
Extra pair of versatile shoes
Rain ponchos
Blanket – always be ready for a picnic or beach day
Towels
Tow strap
Children's Essentials
If you have kids, these are must-haves in your car:
Age-appropriate car seat
Extra clothes – including socks and underwear
Warm weather hat
Cold weather hat
Entertainment – this could be anything like crossword puzzles, mad libs or car-safe toys depending on your preference
If your kids are babies or toddlers, keep these items in addition:
Food
Baby wipes
Diapers
Changing station
Disposable trash bags
Pacifier
Hygiene/Personal Products When You Need Them
Sometimes you need hygienic care after a car ride. Keep these items just in case:
Deodorant that doesn't melt
Extra socks and underwear
Touch up products
Feminine products
Bug spray
Contact solution and holder
Floss
Mints
Toothpaste and toothbrush
Long Ride Kit
If you're taking a long car ride, these are good things to have:
Water
Food – something easy to eat with long-term energy benefits
Pillow
Neck pillow
Blanket
Portable device for watching movies if your backseat passengers prefer
Cleaning Products For Your Vehicle
It's good to keep your car clean. It's easier when you have the right stuff! Here's the cleaning products you should keep in your car:
Window wipes
Seat wipes
Dash wipes
Antiseptic wipes
Technology/screen wipes
Microfiber cloths
Miniature waste basket – you can find ones that conveniently mount in your car
Portable hand vacuum – if you have the room, this can keep your car extra clean
Bonus: Winter Kit
Winter vehicle essentials are their own category. We have the winter driving tips for you. If you live somewhere with winter or icy conditions, make sure your car has these items inside:
Ice scraper to remove snow and ice
Snow brush to clear snow
De-icer
Extra wiper fluid
Snow Tire chains
Kitty litter – can help with traction
Mylar blanket for every person in the car
Rubber gloves
Shovel
Emergency food and water
Hand warmers
What To Do With Your Vehicle Essentials When You Get A New Car
Now that we've covered things to keep in your car, here's what to do when you get a new car:
Transfer all your essential items to your new car. This gives you an opportunity to start fresh and have everything you need in an organized fashion.
Sell, donate or store repeat items. Your new car may have a jack, spare tire, etc. already. For most items, there's no need to have extras. You can go ahead and donate them to someone in need or sell them.
Donate your old vehicle to Wheels For Wishes. Your unwanted car may not have much value to you, but it does to local kids! That's right, your car donation benefits local kids through Make-A-Wish. These kids face critical illness and your donation helps to grant them wishes! Plus, you get the benefit of convenient free towing and a tax deduction! Simply call 1-855-278-9474 or fill out an online donation form to get started.