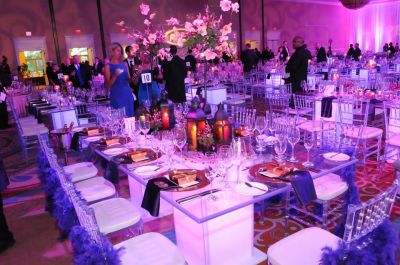 Two Wishmaker's Balls On April 9 In Central And Northern Florida
If you live in one of Florida's 54 counties served by Make-A-Wish Central and Northern Florida, then you have two great opportunities to support your local chapter on April 9th. The 22nd Annual Hamlin and Associates Wishmaker's Ball and the 7th Annual Tampa Wishmaker's Ball are both being held on Saturday. You have the option of attending either of these of these elegant black tie galas to experience the power in granting wishes to the children with critical illnesses.
In Tampa Bay: 7th Annual Wishmaker's Ball
The 2016 Tampa Wishmaker's Ball will commemorate wishes in the Tampa Bay Area granted for children in all five counties of Hillsborough, Hernando, Pinellas, Polk and Pasco, and to celebrate the support of the Tampa Bay community for making it possible.
The 7th Annual Wishmaker's Ball of Tampa, hosted Make-A-Wish Central and Northern Florida, will be held at the Grand Hyatt Tampa Bay on the shoreline of the Upper Bay (2900 Bayport Drive Tampa, Florida, 33607). The Ball officially begins at 6:45 p.m. and lasts until 11, but guests who want to come early and check in can attend the Guest Welcome Reception at 6:30 p.m. With cocktails, a silent auction, and even live entertainment, the Reception is worth the sacrifice of arriving fashionably late to this extravagant event. At 8 p.m., the Wish Program begins, and guests will be served dinner and treated to special appearances and stories from local Wish Kids of Tampa Bay.
Admission is still available, with the price of $250 for General Admission. If you'd prefer to be a Table Host for the evening, $3,000 seats party of ten people. Sponsorships are still available ranging from the starting price of $3,000 for Bronze Sponsor to the highest level of Presenting Sponsor for $24,000.
Register on the event's website, which also provides each Participant with their own personal pledge page to collect donations from friends and family members. The website enables users to track the progress of contributions made to their page, and donors who provide a name to their contribution will be listed on the Participant's individual pledge site on the recognition scroll.
In Orlando: The 22nd Annual Hamlin and Associates Wishmaker's Ball
Make-A-Wish Central and Northern Florida's largest fundraiser is also the chapter's signature event. The 22nd Annual Hamlin and Associates Wishmaker's Ball, presented by Fields BMW, is one of the most exclusive, must-attend events for high-status Floridian companies and clients. The event will be hosted at its usual location, the luxurious Waldorf Astoria of Hilton Orlando's Bonnet Creek Resort.
The Ball begins on Saturday with the VIP Reception at 5 p.m., followed by the official starting time of 6, with the Cocktail Hour and Silent Auction. The evening's program starts at 7 and includes a three-course dinner, the much-anticipated raffle drawing for highly-exclusive VIP table access and a live auction. The auction includes magnificent getaways, once-in-a-lifetime sporting events, and unique opportunities for several days of fun and adventure.
The official program will end at 10 p.m., but the fun continues. Stick around for the Wishmaker's Ball After Party. This annual bash is not to be missed, and this year promises some extra-special surprises.
A large part of Make-A-Wish Central and Northern Florida's success with their main event of the year is due to support from local businesses. 22nd Annual Hamlin and Associates Wishmaker's Ball is an excellent marketing opportunity for the over 80 major companies represented, where sponsors can network directly to a high-end consumer-based audience with buying power. The fundraising goals of the evening include selling out the event and raising over $750,000 to grant over 93 wishes to local children. Companies can help Make-A-Wish Central and Northern Florida achieve this goal. Contributions to the Silent auction through donation of a gift certificate, gift basket, or another quality item will earn companies recognition on the Wishmaker Ball website and in the program distributed at the event to over 1,100 guests.
Admission is still available to the 22nd Annual Hamlin and Associates Wishmaker's Ball, with tickets for General Registration priced at $350. If you're interested in reserving a table, your company will receive Sponsorship recognition at one of the most prestigious fundraising events of the year. A Standard Table Sponsor for ten guests is $3,500. The upgraded Wish Table Sponsor for $5,000 reserves a VIP Table for ten at the Ball with the best seating available as well as many other perks.
Higher-status sponsorships are still available as well, but are going fast. One company still has the chance to be the After-Party Title Sponsor for $20,000. Five separate Gold Sponsorships are available on a first-come-first-serve basis for $10,000. Each opportunity offers the company exclusive recognition as throughout the night the sole sponsor of distinct aspects of the event. All of these sponsorship packages offer many other benefits, including bonus promotional opportunities and perks throughout the evening of the Wishmaker's Ball. For the complete information and to register to become a sponsor with title-status, contact Lauren Shield at LShields@WishCentral.Org or (407) 622-467, extension 209.
How To Grant Wishes This Evening And Those That Follow
Since 1994, Make-A-Wish Central and Northern Florida has granted for than 3000 wishes in the communities of the large, highly-populated region it serves. With each wish requiring an average cost of $8,000 to grant, Make-A-Wish Central and Northern Florida has to stretch every dollar in order to afford experiences for as many Wish Kids as possible. Make-A-Wish Central and Northern Florida survives on the generosity of contributions made by corporations, organizations, and individual donors. Attend, sponsor, or contribute donations to either of the galas held on April 9th, and align yourself and your company with the charitable cause of benefiting kids with critical illnesses who need your support.
If you are unable to enjoy either of the Wishmaker Balls, another way to demonstrate your commitment to the communities you serve is by donating a car or other vehicle to Wheels for Wishes, benefiting Make-A-Wish Central and Northern Florida. We accept cars, boats, trucks, ATVs, RVs, fleet vehicles, vans, and motorcycles in most conditions. Wheels for Wishes is a tax-exempt 501(c)(3) non-profit charity, so donors receive the maximum possible tax deduction for their vehicle.
Call and talk to our experienced donation professionals at 1-855-278-9474, or fill out our online donation form. We are an easy, free, no-hassle way for you to provide an invaluable contribution to kids with critical illnesses.