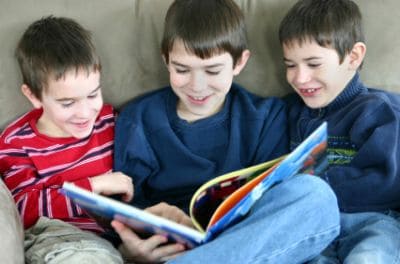 Great Summer Reading For Your Kids
With summer vacation coming up quickly, it's time to start planning for family trips and hopefully more free time. If you have a road trip coming up, a good stack of books might be the best thing you pack to keep the kids busy. Tablets and e-readers can be great, but there's nothing like a real book. You don't have to worry about keeping batteries charged. Plus for camping, beach trips or days on the boat you don't want to risk the sand or water ruining your electronics.
Reading over the summer will keep your kids' reading skills sharp, all while keeping them entertained. That's why we've put together a great list of fun books your kids will love this summer.
Books For Beginners
"Bats at the Library" by Brian Lies
"King Jack and the Dragon" by Peter Bently
"Children Make Terrible Pets" by Peter Brown
"The Dog That Stole Home" by Matt Christopher
"Extra Yarn" by Mac Barnett
"Harold and the Purple Crayon" by Crockett Johnson
"Amelia Bedelia" by Peggy Parish
"Grace for President" by Kelly DiPucchio
Books For Middle-Readers
"Catwings" by Ursula K. LeGuin 
"Junonia" by Kevin Henkes
"The Adventures of Captain Underpants" by Dave Pilkey
"Radio Rescue" by Lynne Barasch
"Charlotte's Web" by E.B. White
Books For More Advanced Readers
"Dog Friday" by Hilary McKay
"October Sky" by Homer Hickham
"The Phantom Tollbooth" by Norton Juster
"The Magician's Elephant" by Kate DiCamillo
"Ella Enchanted" by Gail Carson Levine
This list is just a small sampling of the thousands of books out there. Stopping by the library before a big family trip, or weekly throughout the summer is a great way to let your kids explore what they want to read.
Tips For Summer Reading
Any summer day can be made better with books around. Whether you're at home or on a trip, there are many ways you can get your kids excited about reading. As a parent, you can show kids reading is fun and important when they see you reading books of your own. Setting aside a certain time, whether it's in the morning or at bed time, for reading will help your kids make reading a part of every day. If you're doing something extra memorable this summer, encourage your kids to write about it in a journal. Reading makes kids stronger writers, and having them keep a summer journal is a great way to keep their writing skills strong for the next school year.
Donate A Car To Help Make-A-Wish This Summer
If you'd like to help make wishes come true this summer, or if you realized it's time to upgrade to a new car after or before a road trip, consider a vehicle donation to Wheels For Wishes. We accept cars, trucks, boats, RVs and motorcycles, and turn them into more wishes for Make-A-Wish Kids. When you donate a vehicle, it will be auctioned or recycled, and the proceeds will benefit your local chapter of Make-A-Wish. Plus, we offer free pick-up or towing to make the process as easy as possible for you.
If you have a car to donate, please call us today at 1-855-278-9474 or fill out our online car donation form. Your donation will help send a local Wish Kid on a vacation with their family, or have another great wish experience!