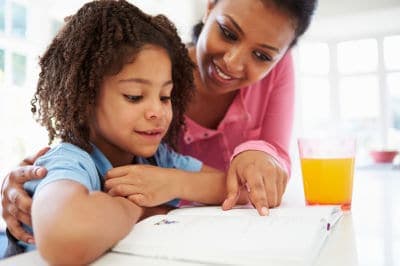 Get Kids Excited About Reading On Read Across America Day
E readers and downloadable audio books each offer something special, but in an increasingly digital world, there's something extra special about sitting down with your kids to read a story from a real book. If you could use more family reading time, March 2 might be a great time to get started. In honor of Dr. Seuss' birthday, March 2 is Read Across America Day, a day that's all about getting kids excited about reading. 
Read Across America Day was started in 1998 by the National Education Association. The creators of the day recognized that children who were motivated to read and spent more time reading actually performed better in school. Teachers, librarians, parents, athletes, actors, politicians, and kids themselves can get involved on Read Across America Day to make reading fun and help kids form a life-long love of reading.
Fun Ways To Spend The Day
The simplest way to spend Read Across America Day is to just read a book together. School age children might already know about Read Across America Day from their teacher or librarian, but just in case, you can still tell them about the day and why it's special. In addition to reading a book together, here are a few more ways to spend the day:
Go to the local library and check out books. Some libraries might even host events on March 2 such as a story hour. Check beforehand to see if there are more ways to get involved at your library for Read Across America Day.

Get your kids their own library cards if they don't have them already. Kids will love having their own card and getting to check out the books they want all on their own.

Make a Little Free Library or visit other little libraries around town. Little Free Libraries are small, decorative boxes that you fill with books and place near your street or sidewalk so that other people in the community can take and leave books as they want.

Create a reading area in your house or apartment. The area could include a bookshelf full of easy-to-reach books, comfy chairs, drawing and writing materials and a small table. The more inviting and fun the area is, the more excited your children will be to use it.

Make a reading challenge for your kids. Many schools hold reading months where kids are rewarded for reading a certain number of books, but you can do this at home too. If your kids aren't motivated to read at home, a game or challenge that gives them a small prize at the end may get them more excited about reading. Think of a surprise your kids will love, and create a chart for them to keep track of their reading progress. When they've reached their goal, they'll get their prize and likely enjoy reading itself more too!

Create or attend a reading event. Check out the National Education Association's guide for creating a reading event. It covers all of the details you may need to take into consideration.

Read Dr. Seuss' books together. Read Across America Day is held on Dr. Seuss' birthday, so what better way to celebrate than reading his classic books? If you have older and younger kids, you can encourage reading even more by having the older kids read to the younger ones.

Read about other people's Read Across America Day plans here and even share your own.
Great Book Lists For Kids
If you're excited to get started on your Read Across America Day celebration, the National Education Association links to many different booklists for inspiration such as the Teacher's Top 100 Books For Children, Notable Children's Books List, Books To Support English Language Learners, and 50 Multicultural Books Every Child Should Read. Check out these booklists and more here.
Make A Difference For Children In Your Community
If you don't have kids, a great way to spend Read Across America Day might be to volunteer to read at a children's hospital or donate children's books to a hospital. Many children spend weeks or even months at a time in a hospital fighting a critical illness. You can make a huge difference in their lives by donating some of your time to read to them!
Another way to bring joy to children with critical illnesses is to make a car donation to Wheels For Wishes benefiting Make-A-Wish. We support many local chapters of Make-A-Wish with the proceeds from car donations. When you donate a car, truck, boat, RV, motorcycle or other vehicle, you can support your local chapter of Make-A-Wish, helping them to grant more wishes for children in your community who could use more hope, strength and joy during a difficult time in their lives.
To donate a car, simply give us a call at 1-855-278-9474 or use our online car donation form. Your car donation will make a positive difference for a child in your community!