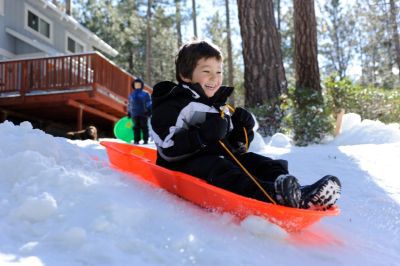 Positive News Stories For A Happy Holiday Season
With so many different and fun holidays and traditions in December, we all want to surround ourselves with positivity, family, and friends. The holidays bring a sense of hope and happiness, and it's easy to feel the exact opposite when you turn on the television or scroll through your news feed on Facebook. It also doesn't help when the weather is cold and dreary during the winter months. At Wheels For Wishes, we like to share several positive news stories each month to remind people to smile, no matter what else may be going on in the world. 
Ninita The Marmoset Loves Her Toothbrush
HuffPost Good News recently shared a video and photos of little Ninita, a two-year-old pygmy marmoset who was born deaf and was rescued by the Rare Species Conservatory Foundation. Ninita's parents abandoned her as a baby so she has been enjoying the love of humans ever since. She loves being brushed with a toothbrush, and it's absolutely adorable to watch. See for yourself!
Hurt And Abandoned Dog Gets Rescued, Smothers Rescuer With Kisses
In another story shared by HuffPost Good News, an abandoned poodle named Layla was rescued by Annie Hart in Los Angeles. Hart, owner of Rescue from the Hart, has rescued hundreds of dogs over the years, but none have shown their appreciation like Layla did.
Layla was struck by a car and was left in terrible condition when Hart found her. Hart received a call notifying her of the poodle's situation and she, with help from Hope for Paws founder Eldad Hagar, immediately rushed to find the abandoned dog. As soon as they saw Layla, their hearts went out to the dog. Watch this clip to see what happened next.
Layla still has some hurdles to climb, and she needed to be hospitalized soon after her rescue. She suffered damage to her intestines after being struck by a vehicle and one of her kidneys needs to be surgically removed. However, she is currently living happily with her foster parents, Bray and Paul, and they are giving her lots of TLC!
Man Travels Across The Country To Hand Out $100 Bills
Imagine helping a stranger and then receiving $100 for your kindness. While none of us expect that kind of reward for helping a stranger, one man feels it's necessary to reward those who are doing good things. In late May, 23-year-old Tommy Lukrich decided to travel by foot from Seattle to New York City after graduating from the University of Idaho. His mission was to reward people who showed him acts of kindness during his trip. Lukrich calls his mission, which is expected to wrap up in New York this December, "Across America: Kindness+Generosity > $."
To receive funding for his trip, Lukrich ran a fundraiser which would help to pay 100 deserving people for their kindness. Lukrich would reward people who helped him out during his trip and would then spread the word about how many kind and generous people are in the world. Lukrich has met so many kind and caring individuals during his trip, including a man in North Dakota who let Lukrich in even after recently being robbed by another hitchhiker. Read the whole story here, and feel inspired!
Social Media Saves A Little Girl's Life
At Wheels For Wishes, we hear many amazing stories of ways that Make-A-Wish has helped to bring hope, strength, and joy back into the lives of local children. A recent story shows us that social media can be a great tool for granting wishes, too. In this mother's wish, Donna McCoy posted a plea on Facebook, asking for a volunteer donor to help during a time of need. Donna's daughter, Kennedy, was diagnosed with a rare metabolic disease and was in need of a liver transplant to survive.
The Facebook plea read, "Okay Friends...here it is...the request of a lifetime. Is there anyone out there who has O+ blood and would be willing to donate 25% of their liver to save Kennedy's life? Trust me, I know it's a lot to ask, I can't even believe I'm posting this, but as a mother, I have to exhaust every option possible. Please PM me if you don't want to respond publicly. Thank you."
Amazingly, an old high school classmate named Michael Thompson messaged her saying that he has a 0-positive blood type, and he ended up testing as a match. The transplant was performed on Nov. 11.
Never underestimate the power of social media! Read the full story here.
You Can Donate A Car To Help Grant A Wish This Holiday Season
The next positive news story is in your hands! When you donate a vehicle to Wheels For Wishes, benefiting Make-A-Wish, you can help to grant a wish for a deserving child battling a critical illness. Your donation will allow a child to receive their greatest wish granted. Wishes are only limited to a child's imagination!
Imagine seeing Wish Stories such as Lauren's, Joe's, and Louis', and knowing that your car donation helped to make their wish possible. When you donate a car to Wheels For Wishes, benefiting Make-A-Wish, you can be sure that your donation is benefiting a local child in your community.
To donate a car, fill out an online donation form or call us at 1-855-278-9474.  Receive fast and free pick up or towing of your vehicle, and receive a great tax deduction, just in time for the New Year. Donate before 11:59 p.m. on Dec. 31 and your tax deduction counts toward this year's taxes!